Theme-oriented slots represent a good example of how and why properly featured and targeted slot games have managed to gain real popularity in a relatively short period. This is part of a global trend where sports are the focus of broad public attention worldwide. This doesn't mean everybody has equal access to sports, nor that they are all equally passionate about it; but ultimately, everybody wants to stay connected!
Before sports-themed online slots came on the scene, the main way to stay connected was watching TV. But then everything changed. Sports TV broadcasts still attract billions of people worldwide, but the TV doesn't pay you for watching. But sport-themed slots do: at least if you win, of course! While not intended as a substitute for the joy of watching sports, sports-themed online slots give you a different but still really wonderful feeling: the feeling of being connected to your favorite game when you're trying your luck!
Slot games are the most dynamic branch of online gambling, and it's no wonder that sport-themed slots now represent the fastest-growing sector.
Global Cup Soccer
The stats say that half of the world – a record of 3.572 billion people – have watched the 2018 FIFA World Cup. Perhaps you are one of them? Then Global Cup Soccer slot from Rival Gambling is exactly what you need. This exciting slot, with its 3 reels of football symbols offers a good combination of its design features: they are simple and yet amazing. Add to this the perfectly suited music and sound effects, and you will easily understand why this slot machine is already the game of choice for many soccer fans!
The gameplay is very simple, just like in other slots. Choose how the number of coins you want to use and define your bet size – up to the Max Bet if you're up to chasing a bigger payout. Press Spin and then see your winning combinations. Your paytable, which is nice-looking and easy to check, is next to the reels. You don't even need to keep on pressing the Spin button – use the Autospin option and the machine will keep on testing your luck when you're busy, for example, texting your friend or buying another coke!
Unlike some other slots with perhaps too many symbols, which can be too distracting, Global Cup Soccer Slot has a restricted line. But all the symbols look really nice and entertaining, right? Especially for a soccer fan. Of course, the symbol of a soccer player is the one that pays the most! The cup (trophy) symbols working as 2x multipliers, but gold, silver and bronze medals are even 5x multipliers. The slots details are: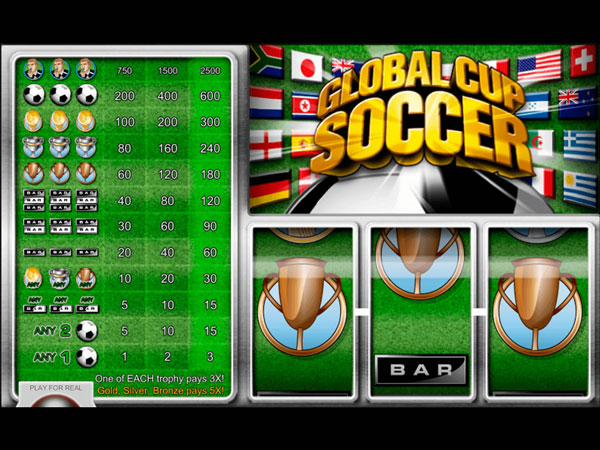 RTP (Return to player) – 96%
Paylines – 1
Reels – 3
Min coin size – 0.1
Max coin size – 10
Min coins per line – 1
Max coins per line – 3
Jackpot – 2500
The screen design is very attractive, alluding to top-class soccer competitions – with grass-green background, flags of different countries and soccer-related symbols. The kinds of things that are going to bring back your best memories of classic matches from international soccer!
Aussie Rules
Even if you are not a fan of Australian rules football (aka "Aussie rules") you can still become one if you try this slot; one that is so fun, that once you play, it's hard to stop! Just look at these nice symbols and overall screen design with its vibrant colors: perfectly balanced and pleasing to the eye.
The symbols include a whistle, different cards, an oval-shaped ball, a football player, etc.
The gameplay is enriched with many features and high-payout bonuses. There are 5 reels and 15 active pay lines. You can use the controls on the screen to modify the number of lines, the number of coins, and also to choose your bet multiplier. Max Bet button is also available.
The wilds substitute any symbol. Even more, they can pick up the highest payout line. Another nice gameplay option is that you can collect min 3 free spins and receive a great bonus of up to 100 free spins. And of course, the symbol of the oval-shaped Australian ball, more rounded at the ends than the American football, is very important in this slot: three, four or five balls initiate an exciting bonus game round.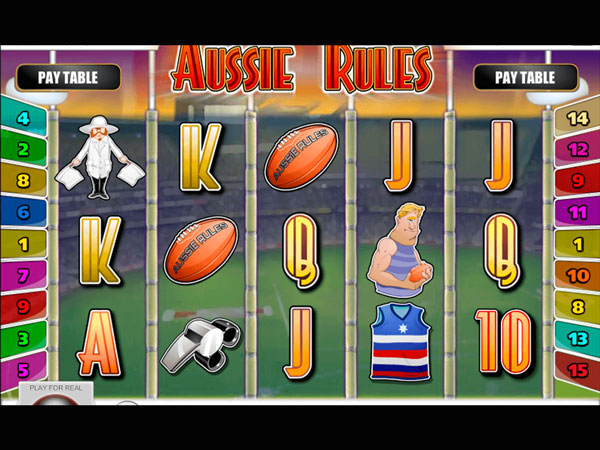 RTP – 95%
Paylines – 15
Reels – 5
Min coin size – 0.1
Max coin size – 1
Min coins per line – 1
Max coins per line – 5
Jackpot – 5000
Heavyweight Gold
This 5-reel slot machine features a healthy way of living. If you are a gym-goer, this slot is for you. It is a 5-reel slot with 20 active pay lines, but you can still choose how many win lines you need. You may like the option of selecting the bet multiplier and the number of coins.
The "gym theme" is represented with a line of wonderful and stylish symbols to deliver you between 2 and 500 coins per spin. Scatter and Bonus symbols trigger free spins and bonus game round. Two, four or five Scatters win you 10, 20 or 100 free spins. Just another nice feature is Extending Wild to appear on reels 1,3, and 5: it replaces any symbol on the dashboard.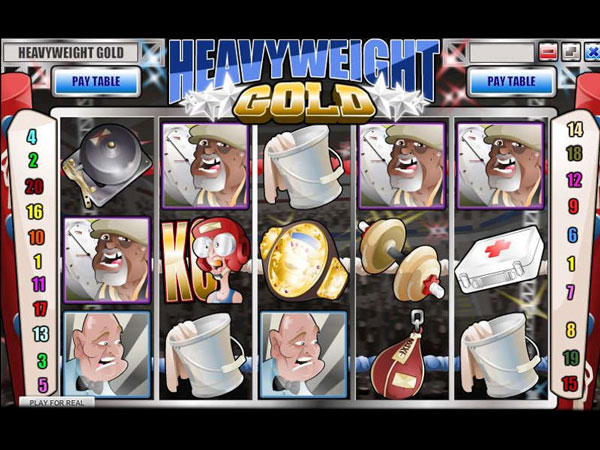 RTP – 96%
Paylines – 20
Reels – 5
Min coin size – 0.01
Max coin size – 0.25
Min coins per line – 1
Max coins per line – 10
Jackpot – 1000
Pigskin Payout
This is the game for those who love American football. It is a standard 20-lines 5-reel slot, but its overall design looks a bit different from the other games developed by Rival Gaming. The symbols look a bit bigger. If you like to see bigger images, and if you are a fan of American football with all the fantastic atmosphere of the match, then this game is for you.
Game control features help you to select the number of coins and bet multiplier. And of course, Max Bet button is still there.
You can see plenty of theme-related symbols, like a ball and a coach, and also players, food, and parts of the field – all the things we think about when we're attending a football match. There are scatters to activate free spins, and wilds with multipliers to replace any other symbol. It was definitely a good idea that the developers decided to use a cheerleader symbol for the wild!
The great things about the wilds in Pigskin Payout are that they're on the reels 1 and 5 during the free spins. According to what the players say, this is the best part of this particular slot game as it thoroughly increases your wins during free spins. Try playing Pigskin Payout slot and hunt for stadium pictogram – this is the scatter related to the free spins.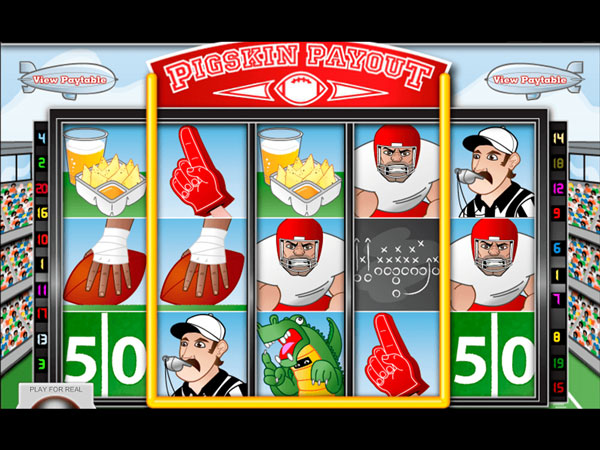 RTP – 94%
Paylines – 20
Reels – 5
Min coin size – 0.01
Max coin size – 0.25
Min coins per line – 1
Max coins per line – 10
Jackpot – 7500
Surf Paradise
It is just another classic-type 3-reel 1-payline slot machine Rival Gaming has developed. With this game, you can see how it is possible to combine playing a good slot with enjoying the authentic surfing atmosphere, and the ambiance of a seashore somewhere in the tropics with all kinds of nice things like a surfboard, palm trees, and ocean waves.
The gameplay is simple but still very thrilling. The simplicity of the game is its strength. There are no wilds, nor are they any special symbols, but this slot has considerably increased odds and a good player-friendly rewarding system of winning with the regular symbols that often appear on the reels. The pictograms of the palms and especially of the surf waves are the best ones, which is pretty obvious – and aren't these the best things about surfing resorts anyway?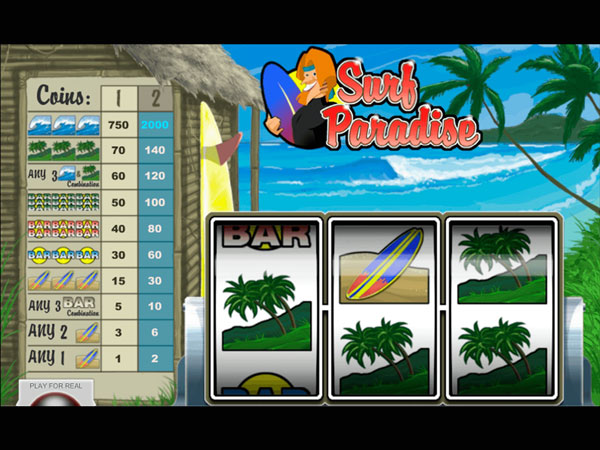 RTP – 96%
Paylines – 1
Reels – 3
Min coin size – 0.1
Max coin size – 25
Min coins per line – 1
Max coins per line – 2
Jackpot – 2000
Hole in Won
Hole in Won belongs to the newest class of slots (called i-slots); but better still, it has an interactive twist! So here you can take advantage of modern devices and interact with the game, choosing to spin different combinations of reels, or even customizing the game. And yes, Hole in Won is indeed a golf-themed game, giving you a nice feeling of being connected to this wonderful game – with the green grass background and all these golf-themed symbols – golf caddies, carts, balls, golf clubs, and golf shoes.
Before you start to spin, you can adjust your bet denomination (coin size) and the number of coins you want to bet per line (up to 5); or use Bet Max to have 5 coins per line at every one of the 15 lines available. You play on a nine-hole green, with a hole-in-one to be hit for the maximum award.
The Eagle is the expanding wild symbol, and the Birdie is the scatter. Three or more Birdies launch the bonus round. It is Mini-Golf, and it is skill-based. You are taken to the nine-hole field to complete all the nine holes, controlling the speed and the direction of the ball. Four or five Birdies mean bigger payouts!
Unlike the majority of slot machines, Hole in Won is not a game of pure luck. With its attractive skill-based bonus feature, it also requires skills you can develop if you practice. Find a place to play this game for free and practice it till you've got good enough to play for real (this won't take long). You will soon see how interesting and entertaining this i-slot game is!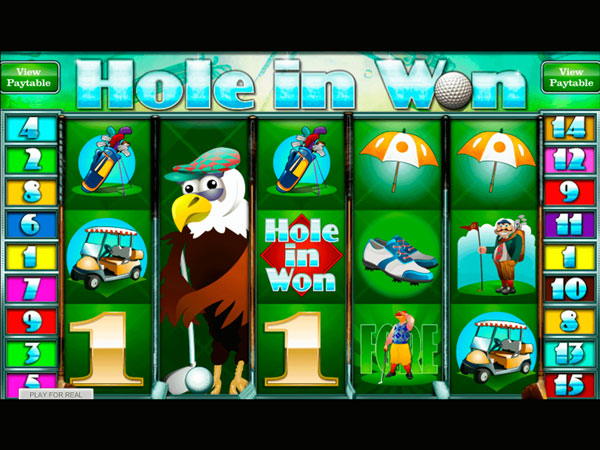 RTP – 93%
Paylines – 15
Reels – 5
Min coin size – 0.01
Max coin size – 1
Min coins per line – 1
Max coins per line – 5
Jackpot – 750
*****
Rival Gaming sports-themed slots are good for those who love sports and want to stay connected. They are modern-looking and nicely designed games with many different features that will appeal to all kinds of players. Whether you love to play more complicated games with many different features, or games that have a special focus on bonus rounds or free spins, or maybe some simplified ones with better payouts on fewer winning combinations – you're sure to find something you really like! On top of that, if you are looking for a sport-themed game where not only pure luck but also some skills are needed – choose, for example, Rival's Hole in Won slot, which is a part of the newest and fast-growing family of i-slots!