Rival software slots have a unique and recognizable design, harking back to the glamorous one-armed-bandit times. Rival slot games are among the top choices for casinos across the World Wide Web. This recognizable and unique developer offers a wide range of multiple-reel slots, and there is something for every online gaming enthusiast out there! Almost all of them can be described as top Rival slots, but we hand-picked 15 in total. Below is the ultimate list of the best Rival slots in the year 2019.
Arabian Tales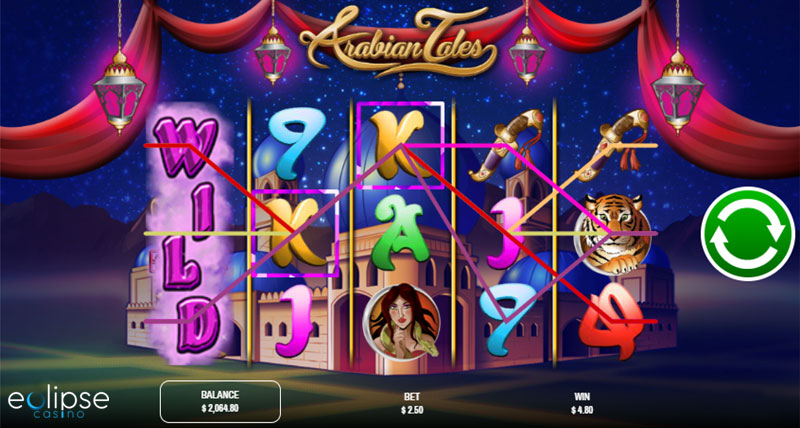 Arabian nights, Arabian days… there's a reason why themes of ancient Arabia and street rats like the famous Aladdin are so popular. There's something so mystical and magical about it, and we've all wished we could find that genie in a bottle to grant our three wishes! This is not the only slot of this kind around, but Rival is on par with the best of them. The colors are bright and colorful, as are the characters you'd expect to find in this five-reel slot that happens to have 50 paylines. And, of course, the soundtrack is just as mesmerizing. The RTP is an estimated 95.00%, and the coins range from one to ten per line, from 0.01 and all the way to 0.25 per coin. The maximum amount you can win if all the reels light up is 125,000 coins. It is much more realistic to get the fixed jackpot, which is 2,500 coins, when five Sultan symbols come up.
We rank this as number one because it has three bonuses. First, you can get 50 incredible free spins when you land three multipliers. Then, there is the scatter bonus as well as the jackpot bonus. Certainly, it's nice to see the Tiger (expanding wild symbol), the princess, Aladdin, and so on, but you really want to see the genie. If you land three of the purple genies, you get 12 awesome free spins; four purple genies give you 25, and five give you another whopping 50 free spins out of his genie lamp.
Mystic Wolf
A dark, wintery theme and a 94.60% RTP will make you want to be a lone wolf so you can play this slot in peace! The coins range from a humble 0.01 to a generous 0.25, so anyone can afford to play this five-reel mystic-looking video slot machine which has a total of 50 paylines. If you get five Diamond symbols, which are worth 5,000 coins, you could, technically, win 250,000 coins, and it also boasts a random progressive jackpot.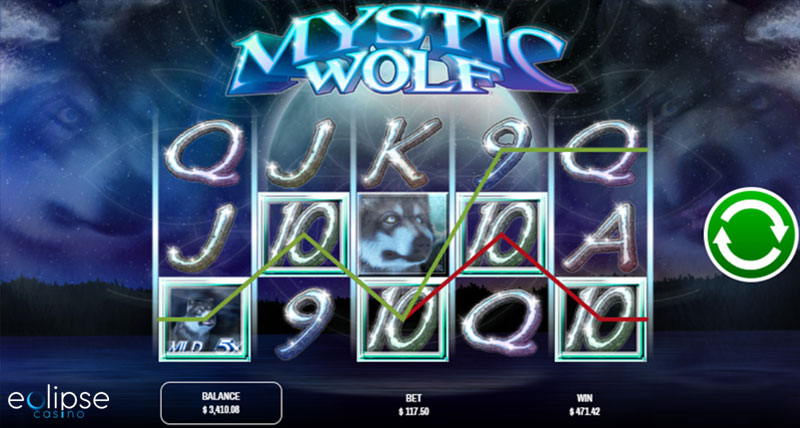 When you get three or more Magic Feathers, you trigger the Super Round. The name makes sense because during that round, you want to collect Lunar Dice to start the Lunar Phase round. And when the moon is full, the wolf howls, and money can come your way! But the best part are, naturally, the free spins, that's for sure! When you get three scatters, you win seven free spins. If you land four scatters, you will receive 15 free spins. Finally, five scatters means you get a mind-blowing 50 free spins! That'll surely make you howl at the moon!
5 Reel Circus
What else could this slot's theme be when we take the name into account? Yes, it's a classic but Rival-flavored circus theme, complete with bicycle-riding bears, clowns, lions, the Ringleader, you name it! It boasts a 95.60% RTP, and you can bet up to five coins per line or 0.01 up to 75 coins per spin. Now, there are five reels and a total of 15 paylines. Get five Tiger symbols worth an astonishing 7,500 coins each and you can get 112,500 coins!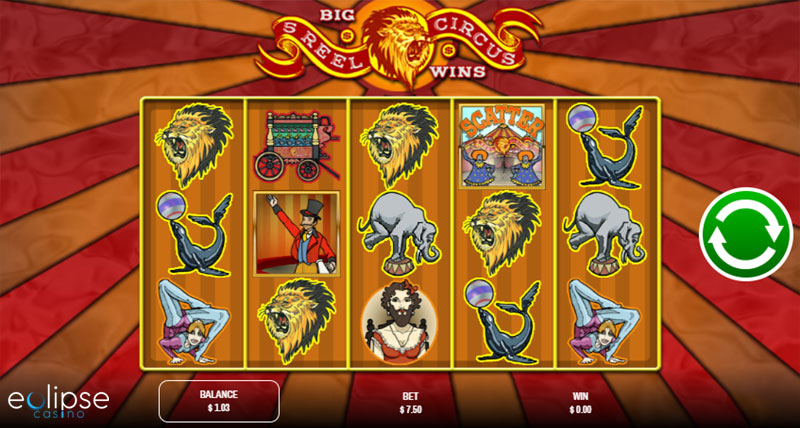 When it comes to the free spin tricks this circus provides, you need to get some lovely scatter symbols to trigger them. So, if you land three or more of those, you get 10 free spins. This will also reveal an in-game bonus round which will make your head spin as all your winnings will be tripled!
Chariots of Fire
There was a famous movie of the same name in the 1980s, but we're sure this slot game is much more entertaining and memorable! Ancient Rome is a popular theme in the world of online gambling, and all the best software providers have a version honoring this time in human history. Rival's slot with this theme has an excellent RTP, which was calculated to be 94.89%, and the coin size range is from a teeny tiny 0.01 to a decently-sized 0.25. The maximum bet is 62.5. It has five reels altogether and an incredible 25 paylines. The jackpot is fixed at 800 coins, but if you get five of the Empress symbols (worth 600 coins) on all paylines, you could win up to a mind-boggling 15,000 coins!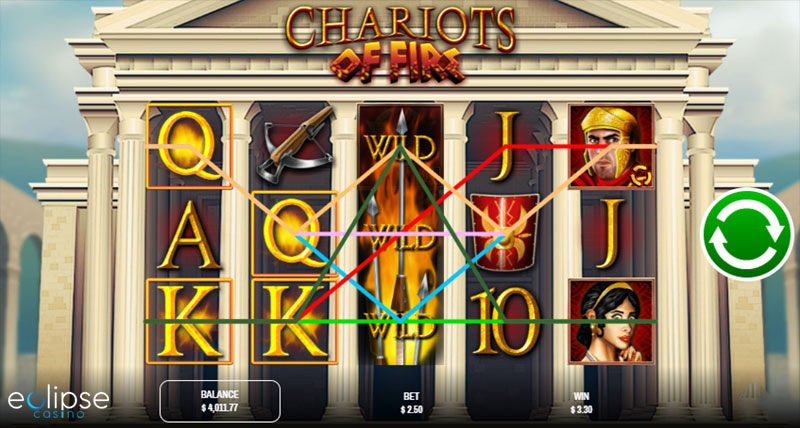 A well-designed Roman centurion soldier is the scatter symbol, and you'll be very happy every time you see between three and five of them across your screen. If three pop out, you'll get your original stake back along with eight free spins and, on top of that, a 2x multiplier while you're in that bonus game. If you land four of them, your original bet is tripled, and five will pay you 25 times your original bet. You can retrigger these scatters endlessly, and you will always activate the bespoke free spins feature. Once you've done that, there will be the same Roman centurion symbol, but it will have a golden glow about it. If three to five of those pop up in the free spins, you activate yet another bonus with a frozen wilds feature — how great is that!
Catsino
They say cats have nine lives, but this cool cat has 50 paylines! So if you love cats, if you love money, and if you love not waiting nine lifetimes to make a buck, then, this Rival slot is for you! It boasts a generous 94.26% RTP, and it is the purrfect five-reel slot to wager real money on. The coins range from, you guessed it, 0.01 to 0.25 with the maximum bet of, you guessed it again,  125.00.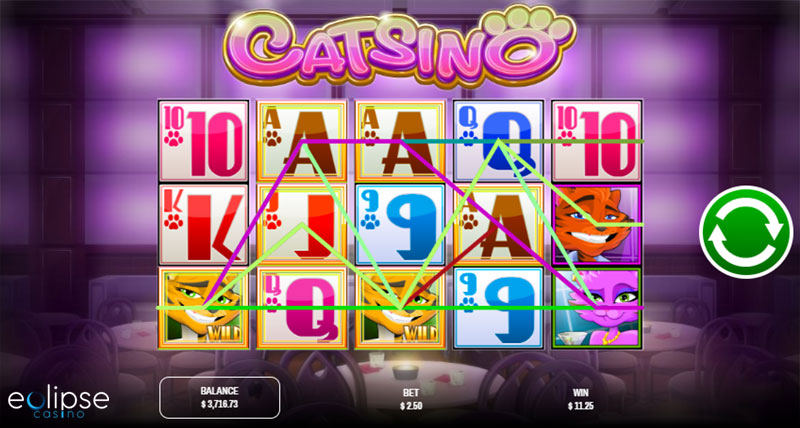 If purple isn't your favorite color, it will become after playing this game because the Purple Cat is the scatter that gives free spins! Now, should three of them pop out, it means you get nine free spins, like nine extra cat-lives. You also get a 5x multiplier, and if you get three or more of that symbol during the free spins in Catsino, you trigger another in-game bonus round! Now, while playing that bonus round, you get another nine spins and a 7x wild multiplier to sweeten the deal! The Purple Cat is also the symbol that pays the most, so if you get five on all the paylines, you could win up to 25,000 coins! Catsino's jackpot is fixed at 500 coins. All we can say about those amazing offers is — here, kitty, kitty, kitty!
Rise of Poseidon
Once you know the RTP is 94.61%, you will want to rise up with Poseidon. And, if you win big, we're sure you'll thank him the next time you're on your tropical beach holiday! Rival really outdid itself with this under-the-sea-themed slot, with 30 paylines on its five reels. The coins sizes themselves go from 0.01 and all the way to 0.25. There is a jackpot worth an incredible 10,000 coins, which is fixed, but if you get five top-paying symbols on all paylines, you can win 15,000 coins! A glorious prospect, isn't it?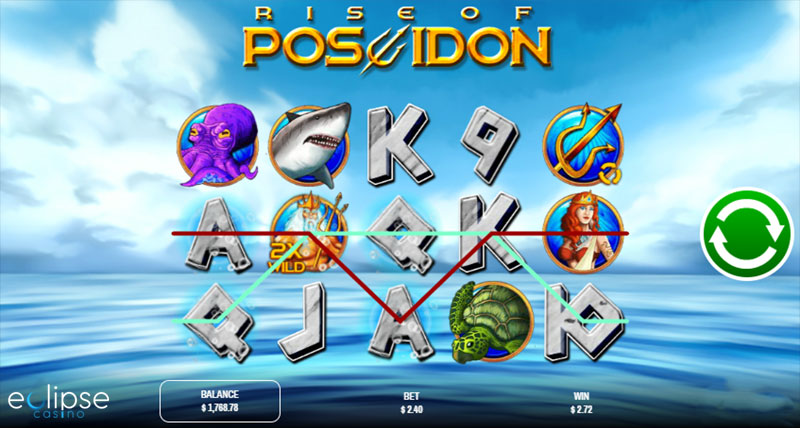 This slot has received compliments for the animations from players, and the graphics are positively lovely and whimsical. Poseidon is the wild, but what you'll really love seeing are the Giant Squids, which act as the scatter symbols! If you get three of the Squids, you will trigger 9 free spins. Next, four Squids equal to 18. Finally, five get you 36 free spins! You can retrigger them as many times as you want, which is very generous of Poseidon to do!
Just a word of warning — you might crave a squid dinner after playing this all night…
Golden Gorilla
Welcome to the jungle. Rival has fun and games! If your favorite comics were Tarzan and King Kong, then you will appreciate this slot like no other. Golden Gorilla promises a good time for the avid slot players, with a fair RTP of 94.26% for this five-reeler with 50 paylines. You can wager up to ten coins per line, and note that the minimum bet is 0.01 while the maximum goes up to 0.25. Five Purple Gorillas pay the most, an epic 5,000 coins to be exact, so if you get five of them on all paylines, you could actually win 250,000 coins! There is also the jackpot, which happens to be fixed at 5,000 coins.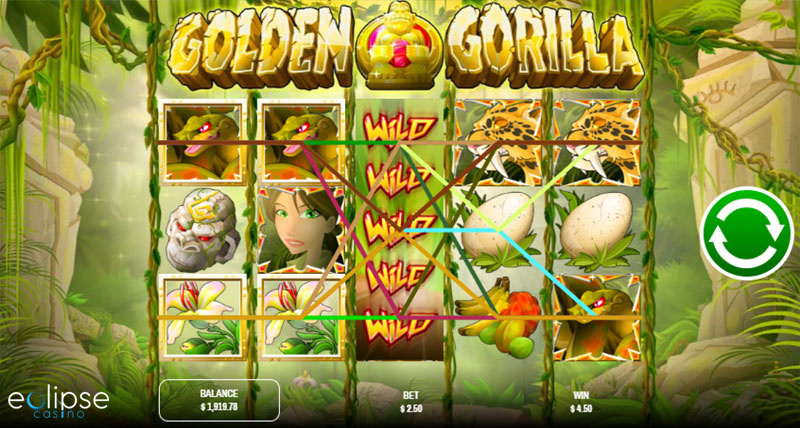 The Gorilla is the expanding wild, and when you're in the free spins round, the gorilla will allow you a 2x multiplier. If you're playing the super round, the wild comes with a 3x multiplier. How to trigger those free spins, you ask? Well, the Golden Gorilla is the scatter, and if you get three of them, you receive 15 free spins. Following that, four Golden Gorillas allot 25 free spins to the player, and five give you a total of 50 free spins. And you can buy a pet Gorilla for that money!
Cleopatra's Coins
The legendary queen has inspired countless songs, movies, poems, and online slots! This is Rival's ode to the legendary Cleopatra herself, with an RTP of 94.80%. The Egyptian-themed game oozes with rich golden colors, and you can bet up to five coins on your chosen line. When it comes to Cleopatra's Coins, the minimum bet is the classic 0.01, while the maximum bet is the standard 1.00. There are 15 paylines on this majestic five-reel slot. Five Scarabs are worth 5,000 coins, so getting one on each reel and every payline means you could win up to 75,000 coins! The jackpot is 5,000 coins.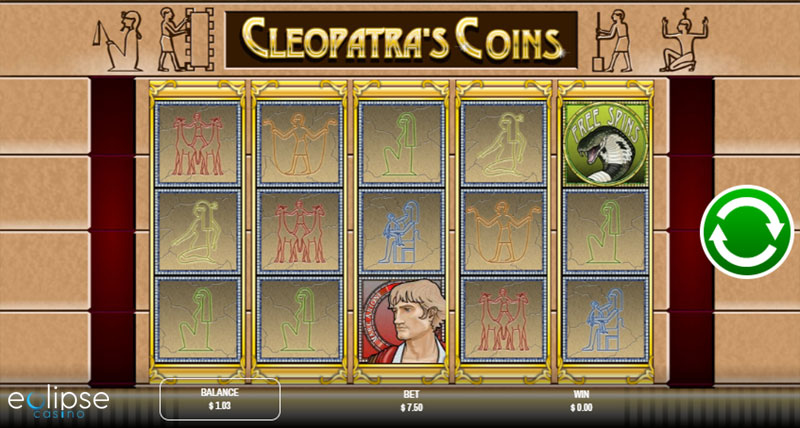 Needless to say, the queen is generous with her free spins. Now, if you get three scatters, signified by the Green Cobras, and you'll land 10 free spins. Next, four Green Cobras allow for 20 and five for 100 free spins! There's also a 3x multiplier and you get the retrigger option (even during the in-game bonus) to boot! We truly understand why Her Highness is so popular…
A Day at the Derby
Any horse racing and slot fans out there? Because this Rival slot is here to cater to all your preferences if you are. Saddle up for this glorious 20-payline beast. The five-reeler also offers a 94.00% RTP. The coin range begins at 0.1 and goes all the way up to 0.25. Plus, the bonus round (when you land at least three Grey Horses) opens up a horse race game as a bonus, so you'll really feel like you're at the derby! Getting five highest paying symbols on all the paylines would get you a total of 30,000 coins.
When it comes to the free spins, you want to look out for the Blue Jockey, which is the scatter symbol. You will win five spins if you get three of those Blue Jockeys. If you get four of them, expect ten free spins. Finally, if all five reels get a Blue Jockey on them, you are allotted 20 free spins!
Jack Frost
So, does anyone else out there love Christmas? We sure do! The cold snow, the warm fire, and Santa Claus getting ready to go down the chimney are everyone's first associations with it. But since we're all grown-ups, Rival has decided to be a real-life Santa, and they created this adorable slot. The beyond-fair RTP of 94.26% on this five-reel game with a total of 25 paylines, will be your Christmas fix all year long! Bet anywhere between, you guessed right,  0.01 and 0.25 coins, going up to ten per line. Not to mention, five of the top-paying symbols appearing on all the paylines can give you 12,500 coins!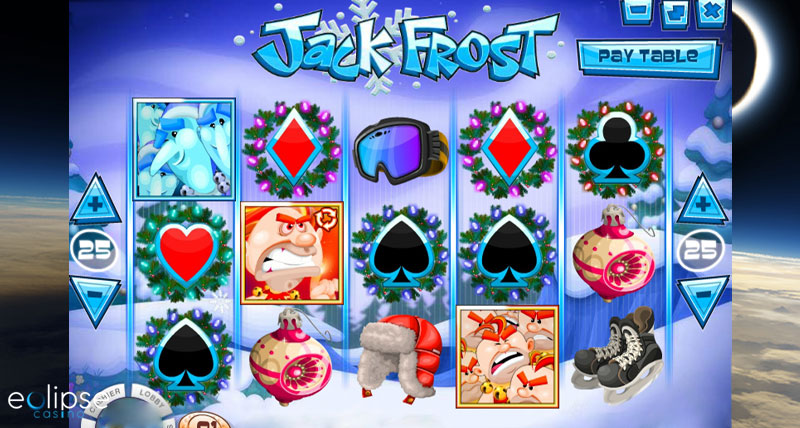 Inspired by the endless interchange of cold and tropical weather, the game features Harold Heat alongside the hero of the game, Jack Frost. Harold is the scatter icon that unlocks the shockingly-awesome free spins feature. It works like this: when you get three Harolds, you also get three spins for free! Four Harolds will herald in ten free spins, and five Harolds will herald in 20 free spins. The main character, Jack Frost himself, is the wild, and he activates the bonus round.
Turn winter into summer the more you play this contagious game!
King Winalot
If there is anything better than being a king, then it's being a king that wins a lot! Speaking to all the Medieval fans out there, this Rival slot will surely hit the spot. With a 94.93% RTP and 25 paylines, this royal five-reel slot will surely tickle anyone's fancy. You may bet up to ten coins in one go and know that they range from 0.01 to 0.25 of your betting currency. Five highest paying symbols together on a payline will give 500 coins, so you could technically win the insane amount of 2,500 coins.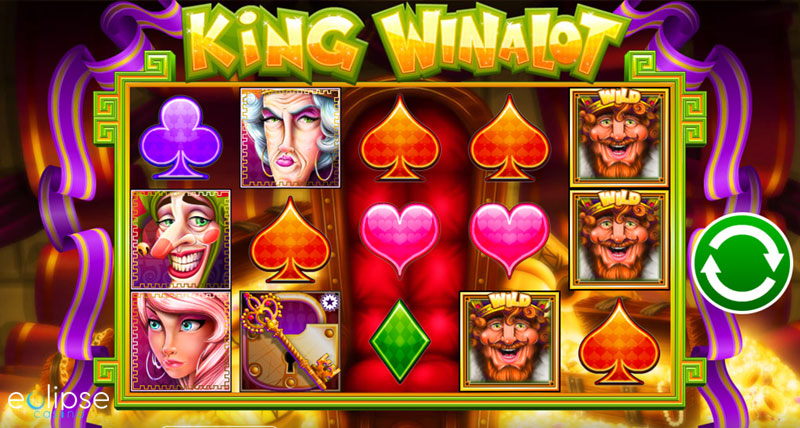 The King is the wild, and the Prince is the scatter that generously awards free spins! In the case that you land three Princes, you get seven free spins. Four Princes on the reels get you 11 free spins, and five Princes will allot you 21 free spins. Isn't that the royal treatment!
Jolly Rogers
Oh, it's a pirate's life for me! Well, it could be for anyone playing this slot. Just grab your spyglass and sit comfortably to enjoy this epic slot by Rival. If you haven't guessed, it's pirate-themed. The yummy rum, an ornate treasure chest, and skull symbols really give it away. The RTP was calculated to be 94.60%, and you have 50 paylines on the five-reeler. Bet as little as 0.01 or go for the 0.25 maximum bet. Five Jolly Rogers pay out an earth-shattering 10,000 coins, so if you get them on all paylines, you stand to win an insane 500,000 coins!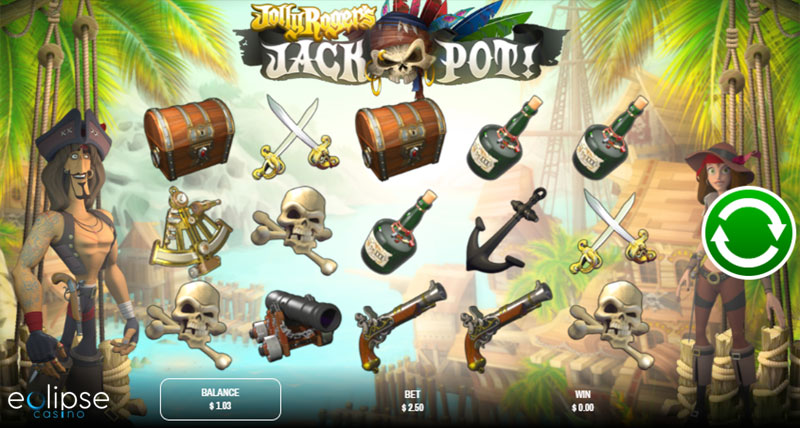 The Little Pirate is the scatter, and if three of them rock your boat, you get ten free spins. If there's four, you get 20, and if there's five, you're gifted a total of 50 free spins. There are also many multipliers to take advantage of, so this slot is a must try!
Diamond Dragon
If diamonds are a lady's best friend, then diamond dragons are everyone's best friend! Certainly, the slot fans out there will want to get friendly with the offering of this game. The RTP is calculated to be a fair 94.80%, and you can bet between 0.01 to 0.25 coins. The 5-reel game has 50 incredible paylines total, and you'll immerse yourself in its otherworldly graphics as you spin along with the mesmerizing reels. Five Purple Potion symbols pay 600 coins, so if you get them on all paylines, that's a potential 30,000 coins!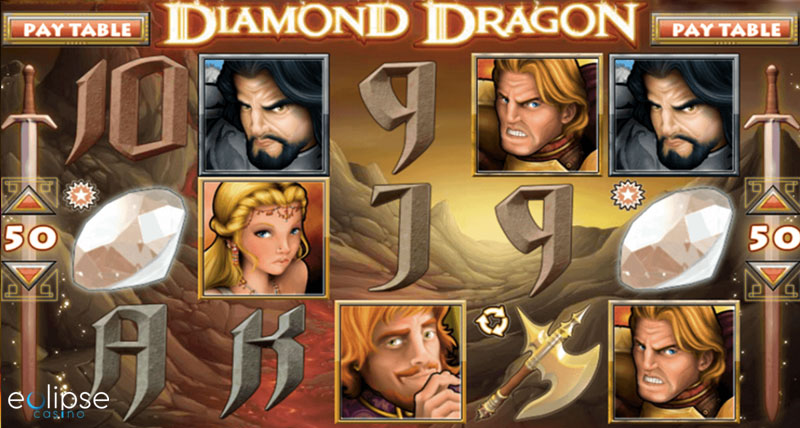 The symbol you'll be happiest to see will be the Golden Axe, which acts as the scatter. Three Golden Axes get you ten, four get you 20, and five get you 50 free spins. Wait, there's more! During that game, you may get one, two, or three Silver Axes that act as multipliers! The dragon itself is the expanding wild, and it's also the multiplier during the free spins.
Almighty Dollar
Hallelujah, praise the Lord! It's the Almighty Dollar! The church that every slot player prays in. This three-reel slot classic boasts five paylines! The RTP of this game is an excellent 94.35%, and you can bet from 0.15 to a maximum of 75 credits, noting that the coins going from 0.01 to 1.0 bet range. Three of the top-paying heavenly symbols award you 450 coins, so if they were to show up on all paylines, you would be blessed with 2,250 coins!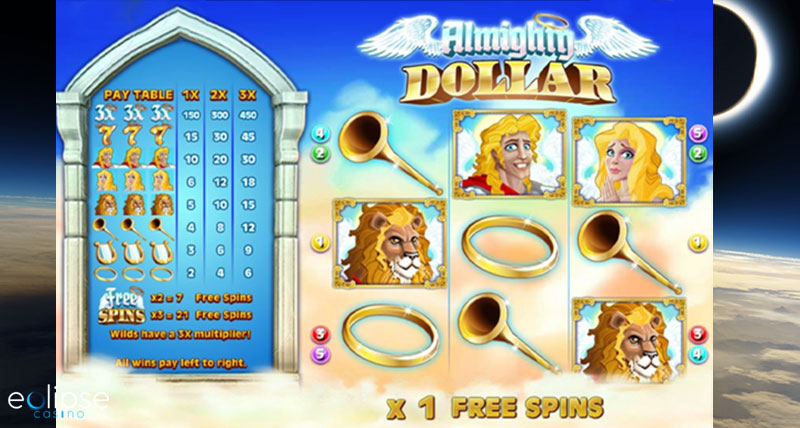 This heavenly slot has two scatter symbols. One is an angelic-looking FreeSpins symbol. If you get two FreeSpins, the heavens will award you seven divine free spins. Should you get three FreeSpins symbols, you are allotted 21 free spins. We bet you'll be in 7th heaven!
Lion's Roar
Last but not least — everything the slot touches is your kingdom, Simba! With an RTP of 95.00%, you'll really feel like you're the king of the jungle. Bet a maximum of 125 coins and note that they range from 0.01 up to 0.25 in your chosen currency. There are 50 paylines and a total of five reels. Five of the highest paying symbols amount to 3,000 coins, which is technically the jackpot. But if they hit all the paylines, you win 150,5000 coins!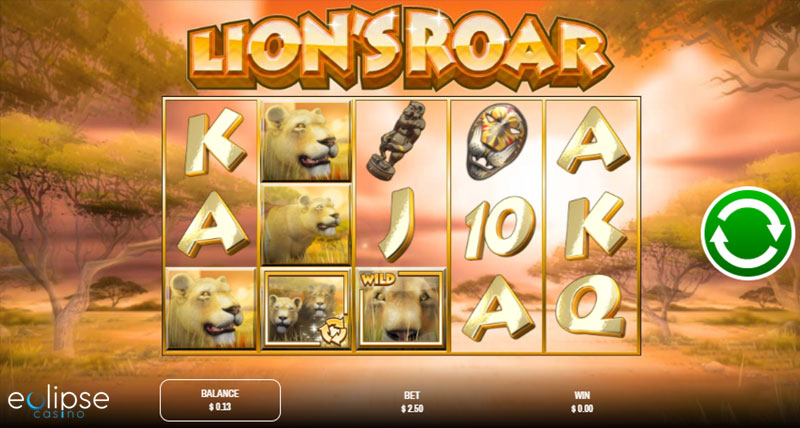 There are two scatters, a lion and a lioness. You need three of them (they don't have to be the same gender) to trigger ten free spins. On the other hand, if you get four roaring lions, 20 free spins are in it for you. In the case of five lion symbols, you can feast upon 50 free spins in conjunction with a 2x multiplier. If you get the scatters during this free game, you activate the Roaring Free Spins bonus feature, which allows for 3/6/15 more free spins, but this entirely depends on the number of scatters. The wilds multiply the winnings by 5x too!