Video poker is a good example of how known-for-long games get transformed and fully rejigged in our new electronic and computerized reality. This game was introduced in the 70s when the first video poker machines took some ground on the casino floors – with only a lukewarm appreciation in the very beginning, but gaining more and more popularity among the gamers worldwide as the time passed.
Why Video Poker?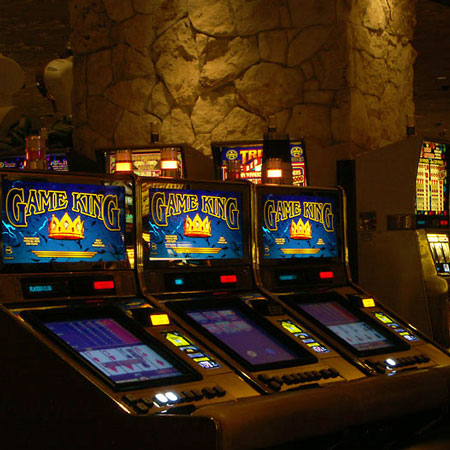 Guess why there are some many people in the world who love to play video poker. Definitely, not only because this game is quite easy to play, and at the same time really entertaining and appealing to various groups of the players. It is popular because people can win real money playing video poker!
What is more interesting – it is not only about the odds, which are quite high, and the house edge, which is quite low. The key is that the player's skills and strategies do matter. Video poker is not a game of pure luck. It requires a qualification needed to make the right decisions about playing your cards.
Other advantages include, for example, anonymity: you could play this game alone, comfortably seated, wearing T-shirt and slippers, and not having to go anywhere. No need to put on your tuxedo or whatever. Your "poker face" is equally needless. No emotional pressure of having to interact with the people whose money you are going to win. Nobody sees and hears you. You can jump and shout when you win or swear if you lose. You can enjoy the whole package of the advantages related to playing online and trying to beat the video poker machine.
There are different software providers for online video poker machines. One of the best ones is Rival Gaming, established in 2006. Video poker games powered by Rival especially target younger generations of players and offer excellent animation and sound effects to make the games even easier to play with a lot of advanced and convenient features. The newest game interface, amazing graphics, and breathtaking effects will definitely make your online video poker experience even more entertaining and exciting!
But, nevertheless, the main question still remains:
How to Beat Video Poker Machine?
Let us start with some basics as they are especially needed for those who might not be fully in the swim. There are slightly different versions of video poker of which we would talk a bit later, but all of them are based on the same game mechanics: it is a five-card-draw game played with a standard 52-card deck. You make your bet, press the "deal" button and see five random cards the machine deals to you.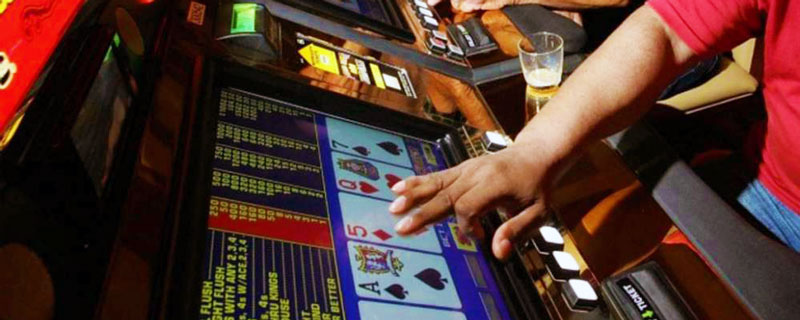 Here is the moment to make your decision. You should make up your mind: which cards to keep and which to replace as you plan to draw for a stronger hand. Chose the cards you want to keep clicking on them, then press the "draw" button and see the new cards the machine gives you instead of the ones you have discarded. With these new cards, your poker hand is now complete and you immediately see whether you have won or not. The winning hands, bets, and payouts are posted on the screen as a table, and it is not difficult at all to make the best use of it. Everything is clearly seen.
Once you have seen and analyzed the table indicating your expected returns, you could decide whether to play at this table or not. This part can seem somewhat difficult, especially for a novice. How to know a good table from not a good one?
Choosing Your Table and The Game to Play
There are many variations of video poker with a slight difference in the gameplay and rules. The most common version is Jacks or Better. It has different payout versions, denoted with two numbers divided with a slash. Like 9/6 Jacks or Better, which means payout 9 for a full house and 6 for a flush. This is the best payout video poker machine with 98.45% payback. All the other versions are less favorable – 9/5, 8/6, etc. Perhaps, the worst one is 6/5 with only 95% payback – unless there is a variation to the rules to increase the payouts for certain hands, of which we will talk a bit later.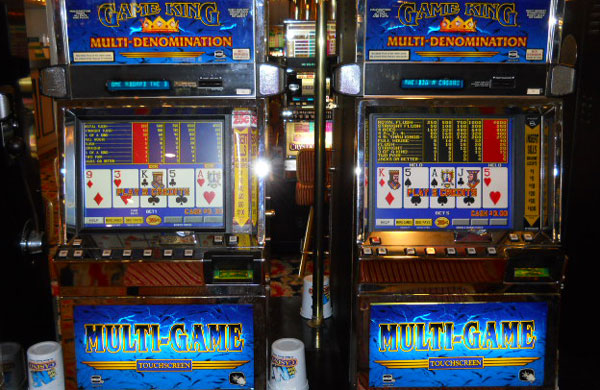 Looking at the payout table, you can notice that the payout increase proportionally to the bet size, with the only exception of max winning offered for hitting a royal flush (250 – 500 – 750 – 1000 – 4000 payouts against 1 – 2 – 3 –  4 – 5 coins bets). Although your chances of hitting a royal flush in video poker are theoretically very low, they are still about five times higher than your chances of hitting a jackpot at an average slot game, and this 4000 payout ramp up your statistical chances of winning real money with video poker.
Rival video poker software allows you to play multi-hand games – it reduces the variance and lets you sharpen your skills as you can play the same hand many times – up to 25.
Rival Gaming offers you different video poker games with the payouts 98% or higher. There are such popular and exciting games as:
Jacks or Better
Just a standard video poker game with no wilds and a pair of jacks or better cards (incl. aces) as lowest winning hand pyd with even money (you get $1 for every $1 wagered). The betting range is from 5 cents to $5 per coin, which welcomes high and low rollers. Payot rate is the highest – 99.54%.
Aces and Faces
This is exactly the variation of 8/5 Jack or Better game with an increased payoff applicable whenever you hit four of a kind with aces and face cards. This better payout option takes max payout percentage up to 99.26%.
Deuces Wild
The is the variation of video poker where deuces are wild cards you can use to create your winning hand. Your deuce can become anything, which giver you just great gaming flexibility and countless of winning combinations. The max payout is 99.37%.
Joker Poker
This game is played with a standard deck of 52 cards to which one joker is added – 53 cards altogether. The lowest-value winning hand is two kings of higher. Max payout rate – 98.60%.
Deuces and Joker Wild
It is a combination of the most popular video poker games – Deuces Wild and Joker Wild. You will have no problem in adjusting your playing if you have already played either of the two games. The game features five wild cards: four deuces and a joker, which is really very good for both the dedicated fans of the game the newbies. Hitting the hand of all the five wildcards gives you a fantastic jackpot of 10,000 coins per 5 coins wagered! On exchange, some of the hands are paid off at a relatively lower rate. But nevertheless, the overall payout is very high, too – 99.07%.
Double Joker
Here two pair is the weakest winning hand – just because of the jockers that enhance the odds of hitting a winning combination of high value. Payouts – 98.10%.
Tens or Better
This is the game where winning hands starts not from jacks but from from tens. The deck is standards, 52 cards, no jokers or wildcards are in use. While including the pair of tens into the range on the winning hand might seem to be just a minor twist to the standard gameplay, it makes drawing a winning hand much easier, which seriously alters the strategy, the odds, and the payouts. Winning hands are rewarded lower, but happen more often. The overall payout percentage is still very high – 99.14%.
All of these games are playable for 1, 4, 10, and 25 hands which helps keep the player's chances at a high level.
You really need to choose your game carefully, taking into accounts many factors – your bankroll comes first, of course! But you should keep in mind that all the variations of video poker provided by Rival Gaming offer you a fairly good chance to win money with almost equally high max payout percentages. That is why the thing that really matters while picking your favorite game is the game itself. Your choice depends on whether you prefer to play with the jokers or wilds, or with more often but lower paid winning hands, or maybe just a standard straightforward video poker with no twist to its rules.
Once you have made your choice about the game and the table to play, you just need to make wise decisions and a bit of luck to draw the cards you need!
The Best Advice on Video Poker
Hardly we can give you useful tips on how to get lucky. At least not in this article. But we can give you a piece of advice about making the best possible decisions while playing your cards. As always, good advice should begin with telling what not to do and identifying the most common mistakes to avoid. Indeed, the simplicity of the game and it's easy-to-use interface could tempt a player, especially a beginner, to guess. Video poker is in no way a guessing game. It is rather a game of weighing chances.
You should mind your bankroll as there are online casinos offering a broad range of coin price – from $0.25 to $25.00. It means that the 5-coin wager size varies from $1.25 to $125. Low rollers are going to frustrated with the high-end machines. Since video poker is a fast game with many hands played, you should choose the table with the appropriate wager size.
You must have figured that every twist to the standard rules and every game variation involve the respective adjustment of your strategy. As an idea to put all the strategies together would result in a book or maybe two, let us stay with Jacks or Better basic strategies.
Choose the Max Bet Size
If your bankroll does not allow you to make a max bet at this particular table, choose the table at which you could afford wagering 5 coins. It is not a difficult task since there are many tables out there for those who play micros. But even if you play micros, make the max bets. Why? Because of the jackpot: having wagered 5 coins, you are going to win 4000 coins if you hit the royal flush hand. For 4 coins wagered, your royal flush will give you only 1000. Even though royal flush is a rare bird, it can still be caught by its tail. And you surely don't want to regret that you have wagered 4 coins when you could have wagered 5 and win 4 times more, do you?
Don't Play Too Fast
Even though video poker is the game of high chances of winning and fair payout rates, the stats say that online casinos still make a lot of money on it. Guess why? Because the players' still make mistakes, and the reason is that they unnecessarily hurry up, trying to play faster. The game is absorbing, and you could be tempted to play another hand immediately without weighing your options carefully enough. Don't give up to this temptation. Think twice about which cards to hold and which ones to replace. Remember that too many people have lost too much money because they have played too fast.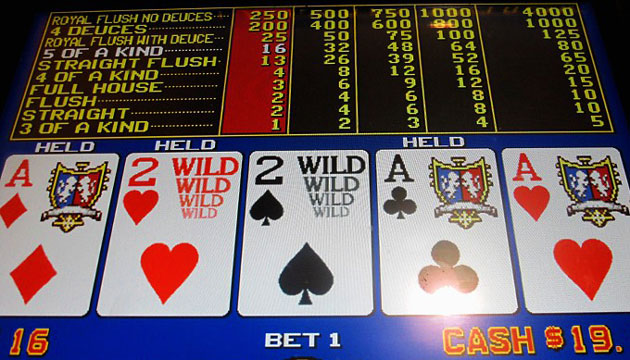 A good way to develop a habit of reasonably slow playing is keeping a track of the number of your hands played per hour.
Make Use of Joining a Players Club
Many online casinos offer valuable bonuses to their loyal customers. In the long run, such bonuses can give an advantage. That is why it is recommended to browse the online casinos and to find those that offer the best bonus packages for long-time players.
Make Use of Bonuses and Promotions
There are tons of bonuses and promotions offered to the players. Focus on those which allow to play more games for free and to win money. Live chats are also helpful: don't hesitate to ask if there are any perks for you now.
Practice For Free
There are many free online video poker sites where you could practice this game for free, creating no account, depositing no real money and so on. This will give you a better command of the basic game principles and understanding of how to pull out a winning hand more often.
Discard Your Kickers
Many players believe that keeping a kicker increase their chances of winning. A kicker may work, of course, but statistically, in the long run, it is useless. Just discard your kickers.
Drawing for a Straight or Flush
Never try to draw for a straight or flush if you have only three cars and need two more. Your chances are very low in this case. However, you can try to pull out a highly valuable straight flush with only three cards – the payout for a straight flush is 50:1, and this chance is worthwhile trying.
Use Video Poker Strategy Charts
The standards deck of 52 cards contains 2'598'960 possible combinations of 5 cards. This variety creates a much variance and gives a lot of room for the law of the big numbers to work. That is why you should not rely on your "feel" and intuition. Better use the strategy charts. Study them and understand which decisions to make and which ones to avoid.
Even though there is not much doubt about how to play the overwhelming majority of pretty obvious hands, there still are many hands you really have to ponder what to do with them. These relatively rare, "difficult-to-decide-how-to-play" hands make a huge difference: in the long run, they are the key to your overall success. You may really want to use the charts in order to know how to better play them.
*****
While video poker is a relatively simple game that does not require an outstanding metal capability to master, you still need a lot of concentration and discipline, and certain skills. You can be successful if you the game seriously. Study the rules and the gameplay, practice playing it for free, find your best video poker table, and then go ahead. Good luck!