When you enter a casino, be it a land-based or an online one, the two most popular casino games categories are table games and slot machines. The difference between these (among others) is that table games have a standardized layout and a specific set of rules, and there's no place for creativity. With slot games, you can let your mind wander, and adapt the game presentation to make it look however you want. From cartoonish to sci-fi, video slots cover a wide variety of themes and designs. This is especially true for online slots, where providers have the option to create literally anything they want.
Some of Rival Gaming's most popular games, including As The Reels Turn, One Million Reels BC, and Reel Crime, offer some nice graphics that are easy on the eye, with some accompanying sound effects that help you get immersed in the game. This helps you feel like you're doing more than playing a casino slot.
One commonplace theme is the horror-based slots. Why do people like scary slots? The thing is, although we don't generally enjoy being afraid, we still kind of like it. When frightened, an adrenaline rush goes through our body, which is an awakening sensation. Especially in a gaming environment where you know, deep down, nothing's really going to happen to you. You can get a great payout on any Rival slot, but spooky slots are going to give you a greater feeling of accomplishment. Let's check out the best five Rival Gaming creepy slots that online casinos provide.
Zombiezee Money
Zombiezee Money brings you to the world of the undead. Seemingly, zombies are the 21st century's favorite villains; so Rival have decided to indulge horror fans with a legion of undead bodies chasing them. Five reels are located in a dim-lit alley, surrounded with barbed wire. As expected, the symbols represent zombies, from an undead nurse to a disturbing image of a zombie baby in a diaper. Additionally, there are human zombie hunters, such as a man with a Ghostbusters gun, or another one with a chainsaw. The immersion is completed with eerie music and echoing sound effects; while blood splatters all over the screen, making it even scarier.
The game contains 20 paylines, and you can select how many of them you want to be active. You can also select how much you want to bet. You can put from 1 to 10 coins on a spin, while the value of a coin can differ from $0,01 to $50, making the game enjoyable for both low- and high-rollers. Payouts on regular symbols go from 5x to 500x your initial bet.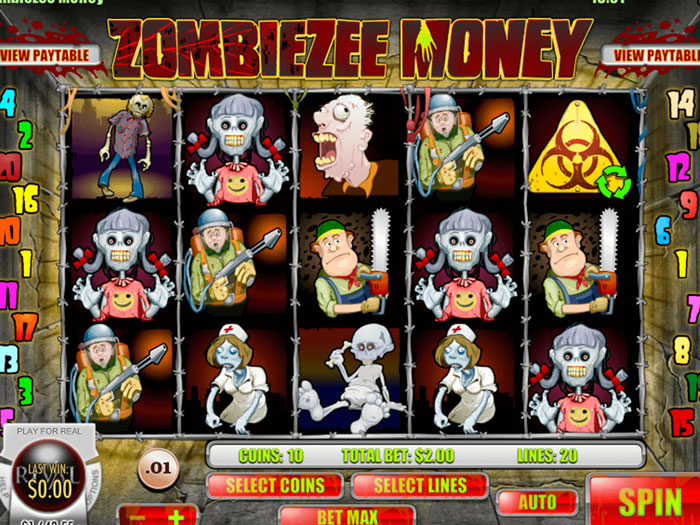 Special Symbols
The wild symbol is in the form of a dog and it's an expanding wild. This means that once it shows up, it covers the whole reel. The wild replaces all other regular symbols in the game and comes with a 2x multiplier. Moving on, the biohazard sign represents the scatter, and you need at least three of them to show up anywhere on the screen to trigger the free spins feature. Depending on how many scatters show up, be it three, four, or five, you can get 5, 10, or 25 free spins, respectively. During the free spin rounds, you can trigger the Zombiezee Super round by getting three or more free spin icons to show up. While the super round is active, the wild symbol has a 3x multiplier.
And there's still more to this game! You can activate two bonus games. When three safe symbols show up, you will trigger the Bunker round, during which you collect items for the zombie apocalypse. On the other hand, three brain symbols will activate the Boneyard bonus. Here, you take a weapon of your choosing and kill the zombies on your own. Finally, a symbol of a hand going out of the ground represents the jackpot symbol. Get three of them and you'll receive 40 credits. Four and five hands will give you 125 and 1000 credits.
Scary Rich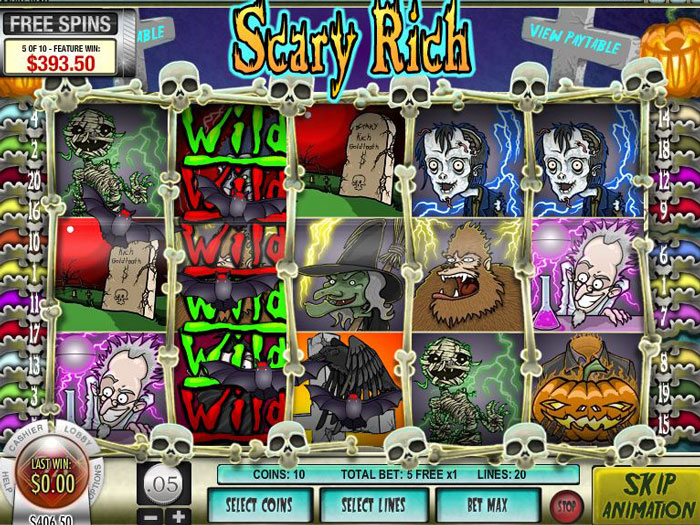 A 20-payline 5-reel slot, Scary Rich is a game filled with classic scary villains and symbols, such as vampires, mummies, skeletons, and witches. The cartoonish design will let you feel a bit more at ease when you take on these wretched beasts; still, it's far from being a childish game!
The wild is in the shape of Dracula. The infamous Romanian vampire will substitute for any other symbol in a winning payline, and he comes with a 2x multiplier too. And if you manage to connect five wilds, you'll get 10,000 coins. Although available on all the wheels during the base game, the wild appears only on the inner three during free spin rounds. But in that case, it becomes an expanding wild. Free spins, you say? You will be gifted those by the symbol of Frankenstein. When at least three come up, you receive 10 free spins. Finally, the jackpot symbol is a raven. Anything from two to five ravens will give you a payout, with the payouts being 3, 40, 300, and 2000 credits.
The apparent lack of bonus games, Scary Rich compensates with high paying regular symbols, which go up to 1000x your initial bet.
Scary Rich 2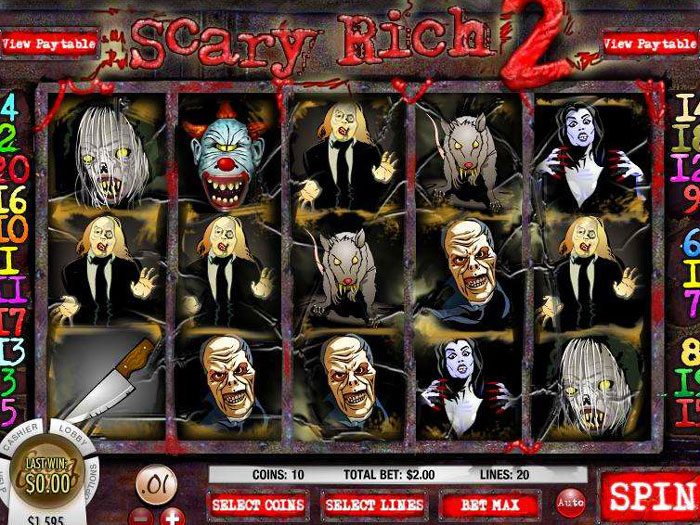 A year following the successful release of Scary Rich, Rival came up with a second installment of the game. The rules of the game remain the same, and you can expect the same payouts and the same special features, albeit with a more frequent payout, with the RTP being higher. Basically, the game graphics are what they have improved the most here.
Mummies and witches have been replaced by black cats, knives, and scary clowns. Furthermore, three werewolves will give you 13 free spins, while the coffin is a wild symbol. The difference is that there is no jackpot symbol, but if you line up five wilds, you'll get 10,000 coins.
Scary Rich 3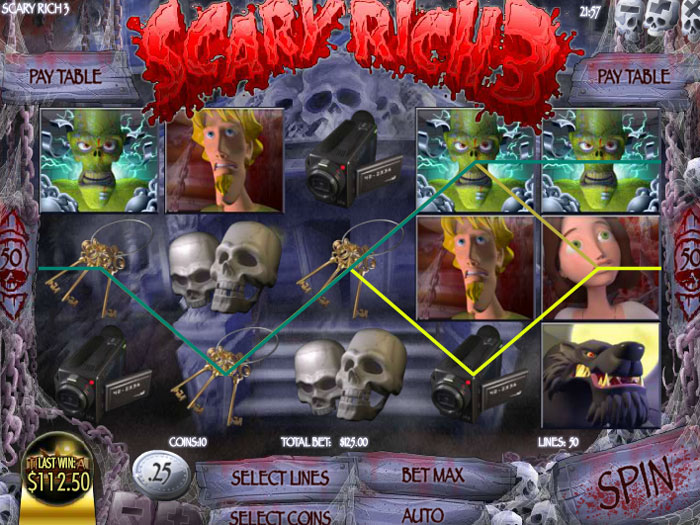 They waited five years before coming up with the final edition in the Scary Rich trilogy. Rival decided to implement 3D technology and have upped the ante. First off, there are 50 paylines across the five wheels. Regular symbols, which are represented by skulls, rusty keys, and lanterns (among others), give you a payout from 5x to 600x the initial bet.
However, what sets this game apart is its free spins feature. The symbol of an old man activates free spins, and you need at least three of these. Depending on whether you get three, four, or five, you'll receive 6, 66, or 666 free spins, offering you the ability to win big. During the free spins, the wilds begin to expand.
A large cleaver knife is the jackpot symbol, and this can give you between 8 and 2500 credits. Additionally, a werewolf is a wild symbol and it substitutes any other symbol in a winning payline. Also, if you manage to connect more wilds, you'll get a multiplier. Two, three, and four wilds will give you a 2x, 5x, and 10x multiplier.
Dr. Acula Slot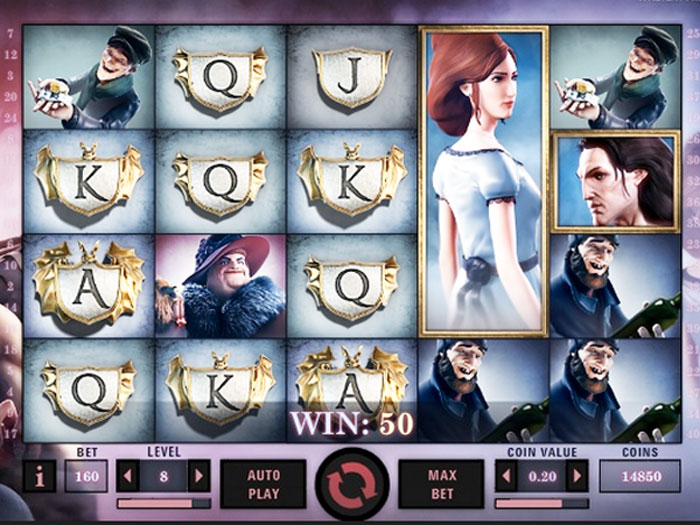 Published in 2018, Dr. Acula is the latest edition to Rival's library of spooky slots. As the name itself suggests, this classic slot game will take you to the depths of Transylvania, where the vampires all follow the will of Count Dracula. The game is placed in a medieval dungeon, with candlesticks and bats decorating the background. In this instance, Mr. Acula has finished his Ph.D. in medicine, so that he can finally carry out his devious experiments on a defenseless human being — you!
The game has a simple layout, with three reels leaving space for the pay table to be shown on the left of the reels. This way, you'll be able to constantly follow what the symbols represent and what you can hope for. Sticking with the medicine theme, the symbols include a vampire nurse, a syringe, blood bags, and vials. Also, it's not really a three-reel slot if it doesn't have those classic Seven symbols, is it? So here, there are three different-colored symbols, which you can all combine.
The symbol of this creepy Dr. Acula, with his bloody syringe and chilling gaze, is actually your friend in this game! It's a wild symbol which replaces any other symbol in a payline. On top of that, you can use it as a jackpot symbol, as connecting three of these will give you the maximum payout of 1000 credits.
Are You Brave Enough?
While none of these games are progressive jackpot games (if you're into those, we recommend the Money Magic slot), they still offer you some great payout options. But, perhaps even more importantly, they offer you tons of fun! After all, slots games are exactly that — games, and you should look for those which are the most interesting.
Adding a bit of adrenaline and suspense in your life is sometimes just what you need. These aesthetically pleasing games will provide you with some real excitement, but they're also going to send chills down your spine. So, with these excellent five choices, there's nothing stopping you jumping into one of them and testing your limits. You're not too scared, are you?