A Couple of Words About Slots
Charles Fey is the smart man we need to thank for the invention of the slot machine. The idea to create the first slot machine called 'Liberty Bell' was brought into life in 1895 in the city of San Francisco. It was initially put in the automobile shop, in order to let clients amuse themselves while waiting for their car to be repaired.
These machines were often called 'fruit machines' too. That's because fruit symbols were commonly depicted on the reels. Initially, the winnings were given in the form of drinks, cigarettes and food; including fruity chewing gum, which may also be somehow connected to these deliciously named fruit machines.
The Poker Must Go On
Did you know that the longest poker game lasted for nearly a decade? To be precise, 8 years, five months and three days! This game took place in 'The Bird Cage Theater,' in Tombstone, Arizona. As the local people were not big fans of theatrical performances, the place turned out to be a perfect shelter for a better kind of entertainment: namely gambling!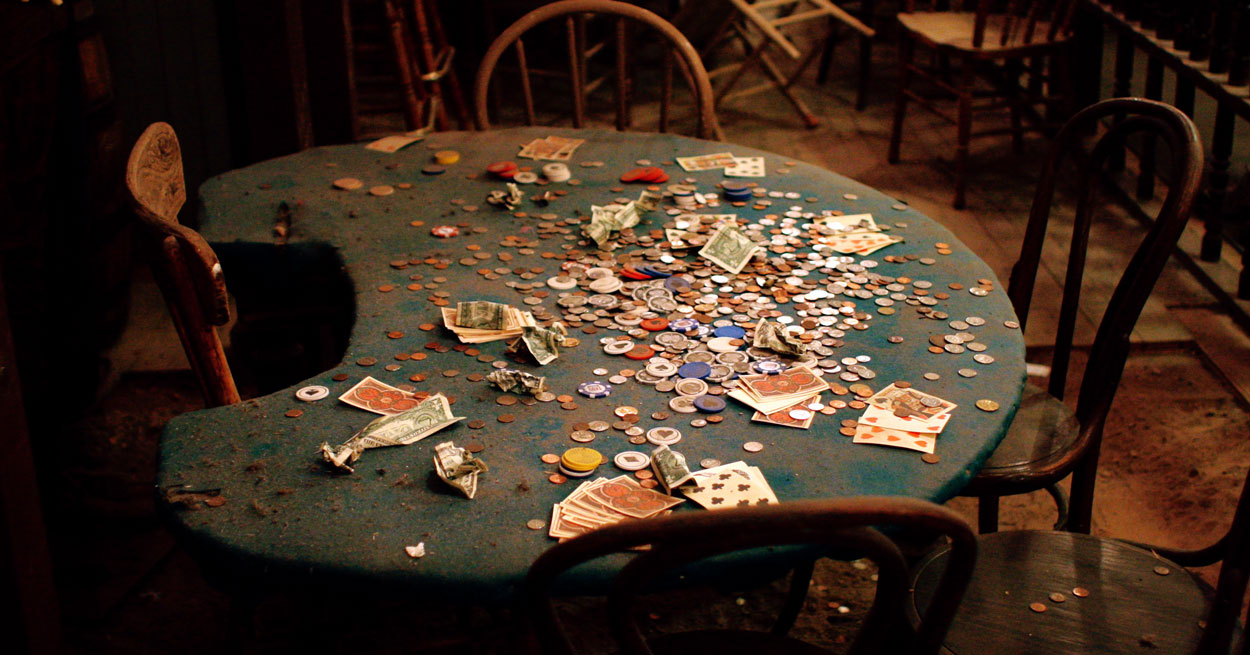 The longest poker tournament started in 1881, with a mind-blowing buy-in of a $1,000! That particular poker table assembled quite a famous gathering of top gamblers, including George Hearst, Diamond Jim Brady, Adolphus Busch, Doc Holliday, Bat Masterson, and Wyatt Earp. The game was played all day long for almost a decade, with around $10,000,000 changed hands.
Gambling in Prison
The next thing here could only happen in the greatest gambling mecca of the universe – the American state of Nevada! A local prison hosted a real casino for around 35 years, from 1932 till 1967. Prisoners serving time in Carson City had a wonderful opportunity to enjoy a wide range of casino games: including blackjack, poker, gin rummy, craps, and many, many others. On top of that, they were also allowed to make bets on various sports events. This was a great kind of entertainment and a way of encouraging good behavior. Unfortunately, the venture was shut down by the next warden of the venue, who didn't approve of it.
The Tiniest Casino in the World
If you're curious to see a teeny-tiny casino; and one which, by the way, is changing location all the time, then you definitely need to visit the United Kingdom. Guess where it is exactly? No, it's not some small building or even a small room! Rather, smallest casino out there is situated in the back of a famous London cab. The credit for this idea belongs to the Grosvenor Casino, Birmingham. So whilst traveling to a certain destination point, you can enjoy a gaming table, bar, dealer, sports events on TV, etc. The venture seems to be quite popular among tourists, as the cab can drive you across all the main London places and even take you to another city. All the money raised here goes to charity funds.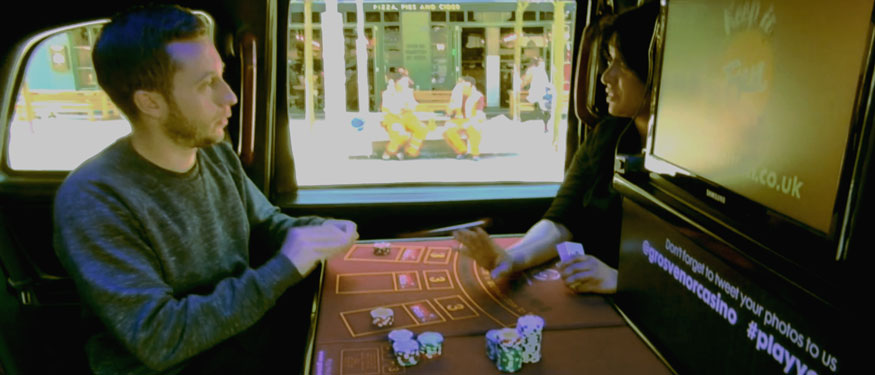 Fabulous Las Vegas
Gambling has a deep and intricate connection with Las Vegas. Indeed, it's probably the first thing that comes to your mind whenever you hear the words casino, poker, or jackpot! The first casino license on the Las Vegas Strip was issued to Mayme Stoker in 1920. Over there,  people were free to enjoy playing lowball poker, stud poker, draw poker, 500, and bridge.
However, the city first started to get really popular in the 1950s, partially due to its close proximity to the US Department of Energy, which run tests on atomic bombs 60 miles away from Las Vegas. A contest called 'Miss. Atomic Energy' was also set up as a way to entertain tourists, who came to watch the atomic mushroom clouds that appeared after the scientific trials. The funny mushroom-like outfits of the contestants also helped to attract more gamblers to the city.
It's interesting to point out that the Las Vegas is actually not the biggest gambling city in the world, despite the fact it's so wildly popular. The Chinese city of Macau has an annual income from the casinos at least five times higher than America's universally beloved Las Vegas!
A Quick Peek in the History of Gambling Names
We have already mentioned a bit about some casino names above in the article, so let's continue. Did you know where the notion of the dealer's shoe comes from? Well, it has quite a logical explanation, which is itself connected to a real shoe. So, the dealer's shoe, which is used to keep multiple decks of cards together, initially had a strong resemblance to an actual women's shoe, typically of red or black color.
As for poker, this word is assumed to come from the Irish word 'poca,' meaning pocket; or else the French word 'poque', which in its turn originates from German 'pochem,' which can be translated as the verb 'to bluff.' Well, both theories seem pretty reasonable, and deserve to be better known by the public at large!