Our plastic litter kills around 100,000 marine animals per year. Around 250 million documented cases of various diseases are caused by direct contact with contaminated waters. Around 80% of pollution in seas and oceans originates from land. Do these numbers worry you yet? Would you be even more worried if you knew that we mentioned only three out of, unfortunately, hundreds of statistical facts about pollution? We've just scratched the surface here, and it already sounds frightening. Are we all finally realizing that it's time to get wiser?
There isn't a part of our lives that can be excluded from green-thinking and environmental awareness. We need to worry about our environment in our homes, at work, on our way to work, and even when we have fun. Many of us wrongly associate global pollution only with big factories, heavy industry, and oil rigs. Although these things are the leading causes of pollution, they are far from being the only ones. Service and entertainment industries also contribute to global pollution, and this contribution can be expressed in massive figures. We dedicated this article to this problem exactly — making people aware of how important green-thinking in service industries is.
Tourism and Entertainment Should Also 'Go Green'
Millions of people walk through casinos every year. They produce plastic litter as well as organic litter, and casinos waste a lot of electrical energy to accommodate this large number of people properly. If one started researching how much waste hotels and large casinos produce annually, it would be obvious that these lines of the service industry alone are responsible for so much waste. Plus, land-based casinos contribute to visual (light), and audio (noise) pollution a lot. It becomes clear that if all casinos in the world went green, this planet would be a bit better place already. Now, imagine that these green casinos would set an example for other lines of industry! Imagine what impact that would have on our lives!
Luckily, there are casinos that are aware of their environmental impact and are already doing their part. They found a lot of different and creative ways of making our planet a bit greener. Each one of these ideas and casinos deserves recognition, just as any other green business, green household, or green solution. In this article, we are going to mention some of the best green solutions and green actions by various casinos. Who knows, maybe these ideas inspire someone to apply them in their line of business. We certainly hope it will. We may have a lot of jobs, a lot of interests, hobbies, various means of entertainment, but we have only one planet.
The List of 15 Most Eco-Friendly Casinos on the Planet
We are going to honor 15 famous land-based casinos, hotels, and resorts that feature environmentally friendly solutions. We are going to focus attention on land-based casinos simply because for them, it's much harder to be green than for online casinos. The modern phenomenon of business migration to the virtual world is already green itself. So we are not going to explore the ways that online casinos contribute to a better environment. They too have their own means of doing that, but our focus, for now, is on land-based casinos, their resorts, and facilities.
Large casinos have to deal with many things that can be dangerous for our environment. They have to manage parking solutions, waste from the kitchen, plumbing, waste of electricity, cleaning of the facility, and waste that the guests produce on a daily basis. It's obvious that it's not easy to make all of these aspects green. That's why we believe that all of the following casinos deserve media attention for their actions and their effort to make their business less harmful to our planet.
15. The Palazzo
The excessive waste of fresh water is one of the biggest environmental concerns of today. So it's great news that a casino as big and as popular as the Palazzo worries about water management. The casino has special plumbing installed that is designed to save water. However, aside from this, the casino also worries about energy saving. The Palazzo is one of the most luxurious casinos in Las Vegas. Alongside various casino games, the Palazzo offers its guests a fitness center, swimming pool, and Spa.
14. Majestic Star Casino & Hotel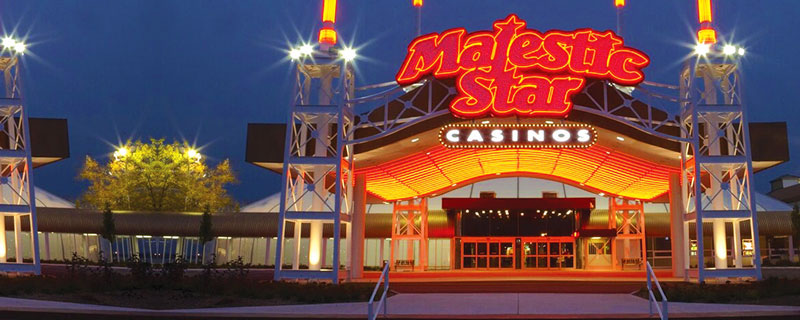 Various products for personal hygiene contain chemicals that pollute our water. On the annual level, gallons of this harmful chemicals end up in freshwater supplies. Luckily, a significant amount of these contaminating chemicals get filtered but not all of them. That's why the use of eco-friendly toiletries is so important, especially for facilities such as resort hotels that greet thousands of guests a year. Majestic Star Casino & Hotel has eco-friendly toiletries that don't pollute the water, and that is a healthier choice in general. The casino is one of the most beautiful on Lake Michigan, and it offers slots, poker, and table games.
13. Rio All-Suites Hotel and Casino
This casino uses three green policies — they save water, purify it, and give all their leftover food to those less fortunate. This way, Rio All-Suites Hotel and Casino prevents unnecessary water wasting, cares about their guests' health, and prevents wasting food. We all know how much food that's perfectly safe for consumption gets thrown away daily. Meanwhile, many people starve all over the world. This is why we hope that a good example set by Rio All-Suites Hotel and Casino will be recognized and followed by other large businesses, such as restaurants, hotels, resorts, and bars. This Las Vegas casino has slots, poker and keno games, and it hosts tournaments.
12. Harrah's Resort Atlantic City
More than a third of lighting in Harrah's Resort Atlantic City is high-efficiency lighting. Besides this good electric energy management, Harrah's Resort Atlantic City demonstrated great waste management skills. Seven years ago, the casino recycled over 760 tons of reusable materials. The casino also insists on eco-aware packaging and food waste reduction. The resort offers many great casino games, has luxurious rooms and suites, and hosts fun shows and events on a regular basis. If a resort of this caliber reduced the amount of its waste and spent energy, then a lot of other businesses should realize that there is no excuse.
11. Aria Resort & Casino Las Vegas
Aria Resort & Casino Las Vegas offers to its guests sports wagering, poker, slots, and table games. The resort is famous for its luxurious accommodation and amazing restaurant. Guests at Aria Resort & Casino can test their luck and explore fun games on 150,000 square feet of gaming space! Besides these impressive facts, Aria Resort & Casino has more outstanding facts to brag about — the casino has a 5-star eco green rating, it saves water, recycles food and various materials, and has energy-efficient lighting. Also, this casino has one of the most impressive corporate fine arts collections.
10. Element Las Vegas Summerlin
All of the food prepared in Element's kitchen is prepared on energy-efficient appliances. The walls and interior decor of the hotel are also green — the paint and carpets are all eco-friendly. Aside from a green way of making food, the hotel also has a green way of disposing of food. Element hotel serves food to their guests on recycled trays. Also, the hotel has faucets that significantly reduce the waste of fresh water. Thanks to their high level of eco-awareness, this hotel ended up on our list. As you may have noticed, we've made an exception here since this facility is not your classic hotel & casino resort. However, the hotel is just minutes away from the best casinos in Las Vegas, so we think that it qualifies for our list.
9. Turtle Creek Casino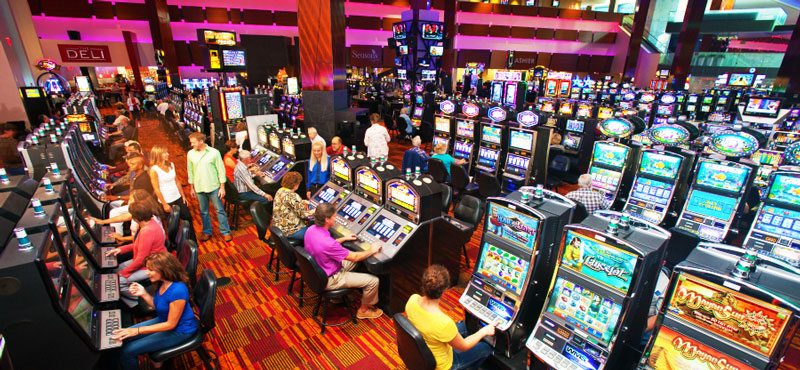 This casino cut their electricity expenses in half by using natural light in a smart way. Their method of using skylights and natural light can serve as a clever example to many famous casinos and even hotel resorts. By getting the most out of natural light, Turtle Creek Casino helps both the planet and their own business — they make their expenses a lot smaller! So there goes a nice motivation for businesses all around the world to go green — it will save them a lot of money! Turtle Creek Casino offers Spa, golf, casino games, great food and beverages, and comfy rooms.
8. Caesars Entertainment
Hotels around the world have tons of waste in unused toiletries. These unused products for personal hygiene often end up in the trash. At the same time, many people in third-world countries are not able to buy products for personal hygiene. It sounds like these two issues can resolve each other — the excess of toiletries can be sent to less fortunate people that can't afford them. Luckily, Caesars Entertainment thought about this solution, and nine years ago, they donated more than 2 millions of soap bars to people around the world. Caesars Entertainment is a globally famous casino-entertainment company. Apart from the famous Caesars brand, Caesars Entertainment operates the green Harrah brand that we've already talked about in this article.
7. Resorts World Sentosa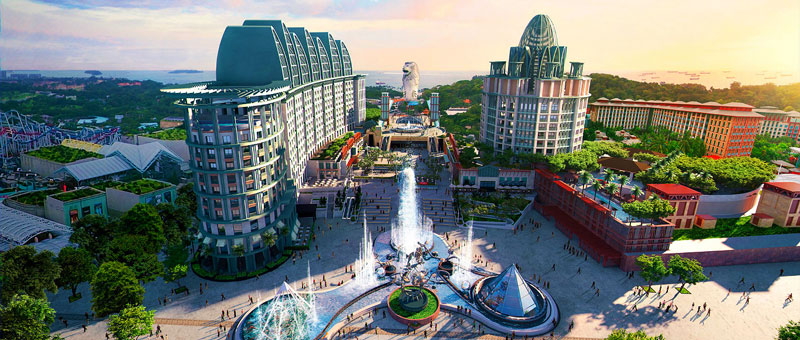 Resorts World Sentosa is one of the most famous casino resorts in Singapore. It offers many exciting activities to its guests, including diving with dolphins. Their famous casino, located under Crockfords Tower, greets a lot of local gamblers and tourists every year. This enormous resort recently decided to terminate the use of plastic straws. Since we are talking about one of Singapore's biggest resorts, such a move made a great positive impact on our environment. The resort reduced the amount of plastic waste by 1.2 tons. This impressive figure can stand in many world casinos' portfolios, they just have to follow the example of Resorts World Sentosa.
6. Sibaya Casino
This famous South African casino has its own food compost! The compost needs little time to do its job since it's a wormery. This green way of food waste management is efficient, fast, and as eco-friendly as it can be. Besides this, Sibaya Casino recycles various materials and disposes of all waste in green ways. The casino has 1,214 slots and 48 gaming tables. It hosts conferences and meetings, offers luxurious accommodation, and has various bars, including Aqua bar and the Royal Court Grill. Sibaya Casino is also a host of many great events and concerts. This resort offers numerous exciting activities, both for children and adults.
5. MGM Resorts
The name of this company probably already rings a bell due to the global popularity of MGM Grand. This world-famous company has a green plan for all of its facilities — they plan to get rid of all plastic cutlery and straws. If a company this size stops using plastic for cutlery, the amount of its total harmful waste would be extremely reduced. MGM China plans to reduce the number of plastic items in its facilities by more than a million! As many already know, we are talking about one of the biggest casino-entertainment companies in the world. The company is the owner of MGM Macau, that is famous for dedicating 8,000 square feet of its facility to fine arts display. Besides this, the resort has bars, restaurants, and a spa.
4. Bellagio Hotel and Casino
We bet that it would be quite a challenge to find a person in this world that's interested in gambling and hasn't heard of Bellagio Hotel and Casino. This world-famous casino offers one of the most luxurious and most extravagant experiences that you can have in a casino or a hotel in the world. Bellagio Hotel and Casino offers Spa, amazing nightlife, luxurious rooms, restaurants with various world cuisines, casino games; it hosts weddings, conventions, and meetings. It's hard to imagine a five-star experience that Bellagio Hotel and Casino can't offer. And on top of that, this casino is one of the greenest in the world — Bellagio Hotel and Casino saves electricity, water, recycles materials, and has a five-star green rating!
3. Mandalay Bay Resort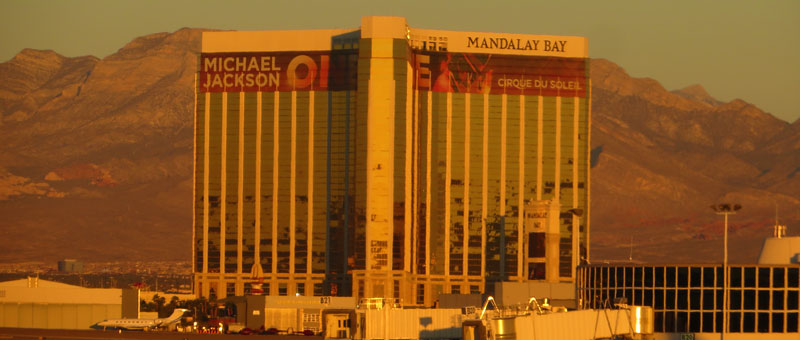 This resort is well-known for its smart food-waste management, and their collaboration with the Nevada Society for the Prevention of Cruelty to Animals. Mandalay Bay Resort prefers local ingredients for their food, and they recycle the materials on their premises. The resort has a Shark Reef Aquarium, and there's always some exciting concert or show there. In Mandalay Bay Resort, you can have some of your best nightlife experiences and enjoy a variety of casino games. The casino has table games, slots, poker, and race and sports betting.
2. Melco Resorts and Entertainment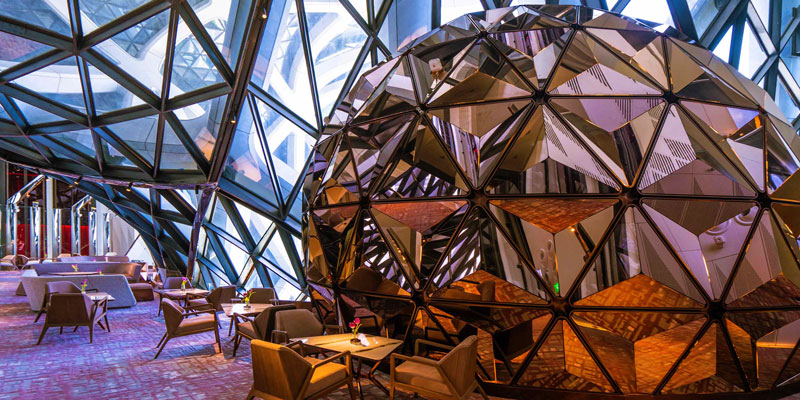 Melco Resorts has a thorough recycling plan — they will sort all of the materials they use into three main categories. The first category will be compostable materials, and the other two will be reusable and non-reusable. The resort will abolish the use of plastics completely. Since we are talking about one of Asia's biggest resorts, this news is more than good. This Asian titan owns City of Dreams, Studio City, Altira Macau, City of Dreams Manila, and Mocha Clubs. Staying at Melco Resorts is surely a luxurious and memorable experience.
1. The Venetian Macao
The top establishment on our list needs no special introduction — this gambling paradise is well-known across the globe. Besides being one of Asia's most luxurious resorts, The Venetian Macao is one of the greenest companies in the world. They offer special parking for electric cars, save electrical energy, and control food waste. They are the most eco-friendly casino in Asia and in the world. They offer luxurious suites, great places for shopping and entertainment, a world-class casino, and deluxe restaurants. For years, the Venetian Macao has been many gamblers' favorite resort destination. This casino is an award-winning green company that became globally recognized for its efforts to promote eco-friendly solutions.
Final Thoughts
Next time you have to choose a gambling resort that you wish to visit, don't just pick those that have nice hotel rooms, many gaming floors, and great slot machines. Think green when you're picking the resort — casinos that think about their guests' health, environment, and pollution deserve to be recognized. Anyway, we hope that not a lot of time will go by before most of the world's casinos turn green. As we've seen, they have a lot of great examples to follow. This is the time when either all leading companies will realize the importance of eco-friendly solutions or the global environment will suffer severe consequences. Luckily, actions like those that we've talked about now give hope that things are starting to change for the better.