Slot machines have been around for over a century, and they've quickly become the most popular form of gambling. Whenever you think of a casino, it is hard not to imagine rows and rows of slot games, and people trying to win something. So here, we're going to go through every bit of information you might need if you're looking to try your luck as well.
History of Slots
It all began when the first slot was launched in 1891. The game offered five drums with fifty cards, and it was based on poker. It wasn't long before most bars in New York had one of these games. The rules of the game were simple — the player would insert a nickel, and by pulling the lever, they would spin the drums. The goal was to get a good poker hand. Since there wasn't a payout mechanism, getting something like a pair of kings would give the player a beer. On the other hand, stronger hands like royal flushes would grant a box of cigars. All of the prizes depended on the establishment, and there weren't any rules about what they could win.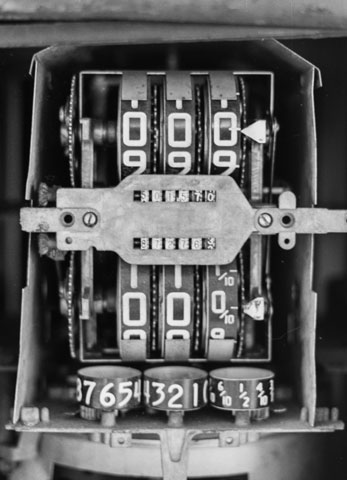 The first change happened a few years later. The original five reels were replaced by three, and instead of poker cards, new symbols were added. This version took the name from one of those very symbols — Liberty Bell. During the next half of the century, the game kept evolving and improving, until in the sixties, players finally got an automatic version. Money Honey was the first completely electromechanical slot, and it could pay up to 500 coins.
When you imagine a slot machine, you think of a player sitting in front of it and pulling the lever. Most slots kept this design with the side lever, but they were still improving. During the seventies, manufacturers experimented with screens similar to TV, and in 1994, they created the first video slot to offer a second screen. The slots we can find today follow the same principle. The player will push the button, and they will win a reward if they're fortunate enough.
How Do Slots Work
In vintage slots, the player had to pull the lever to start the mechanism. The mechanism would start the reels, and each of them acted as a combination lock. If the player hit the winning combination, the tumblers would align, and the payout trigger would grant the reward.
Now, in the seventies, slots started using logic boards as the brain of the game. This way, the Random Number Generator was now to determine the outcome of each individual spin. And while there were still symbols on each reel, including the space between the symbols, the computer would actually use virtual reels to determine the outcome. As a result, the manufacturer could make the top rewarding symbol appear far less often while still increasing the payout. This meant that the symbols on the reels that you could see weren't determining anything. They were actually a representation of what RNG had already decided.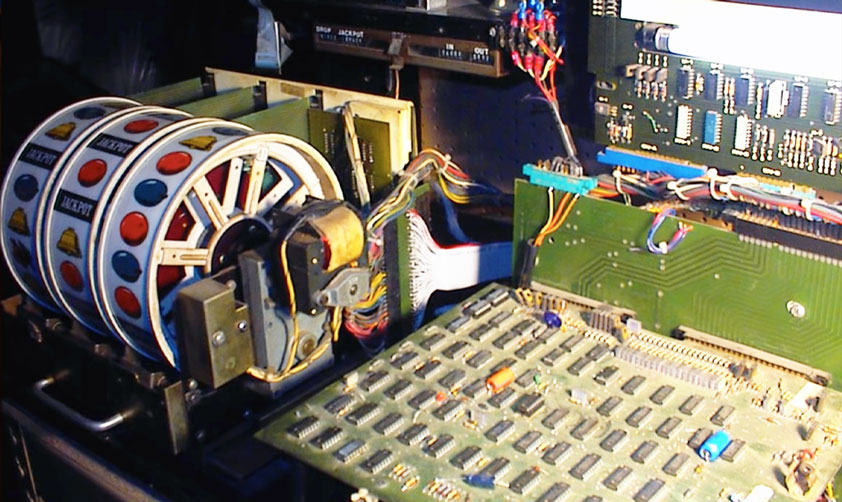 Modern video slots follow the same rules. When you hit the spin button, the computer will randomly determine the outcome, and the symbols will align according to your combination. Naturally, for higher-paying symbols, the chances are a lot lower. Modern video slots often have scatter symbols that can take you to a second screen with additional multipliers and free spins.
License, RTP, and House Edge
All slots have to get licensed and regulated by a third-party. Furthermore, altering slots is not something that casinos are able to do, and all the games have to offer an RTP that is above a certain threshold. But what exactly is RTP? RTP or Return To Player is a percentage of all the bets that are returned in the form of winning. Usually, this is a projection for the lifetime of each slot. According to law, there will be a minimum, and each slot has to offer an RTP above that number.
However, this doesn't mean that every person is actually going to win something if they play. Usually, the RTP has to be above eighty percent, but manufacturers create slots with a higher RTP. Slots with a higher return are more popular, and so the more the game is played, the more money everyone can win. And if we find a slot that offers ninety percent RTP, that means that, in theory, players are going to win ninety percent of all the bets. In this case, ten percent will generate profit for the casino (this is called the house edge).
When it comes to online slots, they work the same way as the ones in brick-and-mortar casinos, but they often offer a higher RTP. One of the highest figures you can find is 99.1%, which means that the casino is only going to take 0.9% as a house edge. Needless to say, this slot is rather popular.
How to Play Slots
There are many slots that you can find both online and in a land-based casino, and each of them are going to offer you something different and unique. Whether you're looking for a specific theme, higher jackpot, or lower coin size, you're undoubtedly going to find the one that's perfect for you. After you find the one you like, there is a high chance that you will be able to pick the coin size and number of paylines. Classic slots have traditionally offered a single payline, and the players had to match the symbols in the middle. However, newer slots offer hundreds or even thousands of paylines within a single slot!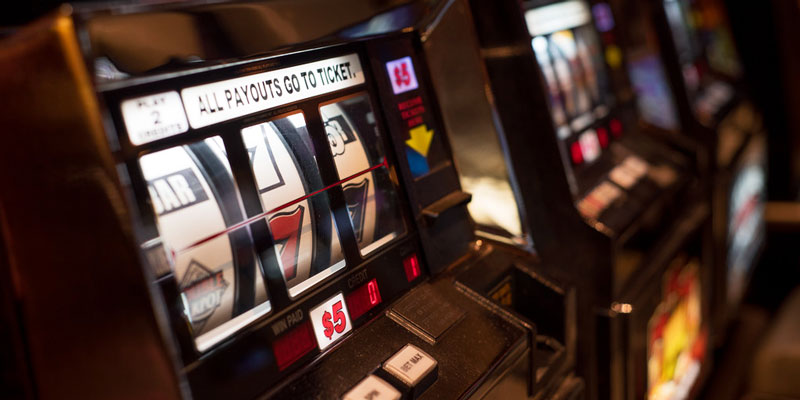 This way, players can get a chance to win at least something with each spin. They proceed to place a bet, and with this, the game finally starts. Yet unlike many other casino games, there isn't much space for advanced and complex tactics. The player will hit the spin button, and then the fun activity begins. After that, the RNG will determine if they won or not. The only tactic that they can use is to plan their funds and experiment with coin sizes.
Probably the main reason for the popularity of slots is their simplicity. The player won't have to count cards or try to outsmart their opponents. The only thing that's going to determine the winner is random luck. Furthermore, it takes only a moment to find out if you actually won anything.
Bonus Features
Thanks to advanced technology, most modern slots offer bonus features. By collecting specific symbols, the player can win free spins or many other rewards. Usually, these features will be the most rewarding ones, and players can get additional multipliers for their bets.
Each software developer has to focus on creating a unique and exciting bonus that will motivate the players to try and reach it. Furthermore, the chances of winning the feature are quite high, and it's a lot easier to trigger the bonus than it is to win the jackpot.
The most popular slots will also offer you a progressive jackpot. Several machines will be connected via the network, to create a special prize pool for this jackpot. Moreover, the percentage of each bet goes into the fund and then increases the total jackpot. If the player is lucky enough, they can win over one million dollars. After someone wins the jackpot, it will reset to the predetermined amount, which is usually one million. There are several types of progressive jackpots. The first one can occur randomly at the end of each spin, whether the player actually managed to win anything or not. The second type will require you to either hit the winning combination or play some kind of minigame.
Various Types of Slot Games
When it comes to different types of slots, the possibilities are almost endless. Vintage slots offered three reels, and you can find slots with this number of reels today. However, the five-reel slots are more popular since they usually offer better rewards. There is also a version with four and six reels as well. Game designers love experimenting with slots, and you can find almost anything. When it comes to online games, the three-by-five grid has practically become the standard.
The second variation is the number of paylines. We've already mentioned that classic slots only offer you one. It's not rare for slots to offer some unusual number of paylines that fit the central theme of the slot. Furthermore, some of them will pay only from left to right, while others have an "all-way-pay."
Finally, we have a variety of coin sizes. The lowest bet per payline is one cent. These so-called penny slots are rather popular since you won't have to wager a fortune to play them. On the other hand, there are also some slots where you'll have to pay several hundred per each spin if you want to bet on the max coin; and there's even a slot with 5,000 per spin. Just remember that with the popular penny slots, the players won't have an easy time if they want to get rich. The best versions of the game offer a wide variety of coin sizes, which can be appealing to both casual gamers and high-rollers too.
Slot Volatility
Some slots will have better rewards and prizes, even if the latter do occur less often. Obviously, these games have a higher risk or higher volatility. Some people love the thrill and the chance to win a lot, even if it isn't as often. On the other hand, there are slots with some low volatility, where player wins will be more regular but in smaller amounts.
Both types have their advantages and disadvantages. So while the high volatility slot may put you on a dry spell for a while, the payout after a win might still be worth the wait. However, not everyone has a budget for this type of gambling, so playing something with less risk might be a better choice for others.
How to Win and Strategies
The most important tip for playing the slots is to determine the budget. Slot machines can have different volatilities, and this is not something the casino is going to brag about. So if you have some money to spare, playing the high-risk slots can be quite rewarding. But it's still essential to stick to the plan and never invest any money you can't afford to lose.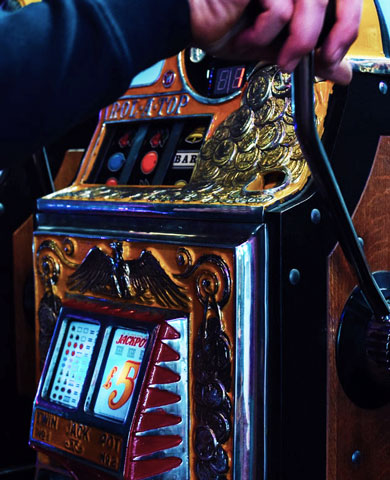 The slots are based on chance, and the only thing you can really do is to manage your finances. Of course, if you plan your budget, you won't feel threatened financially, and you'll have nothing but pleasure and satisfaction while playing the game. And even if you don't win in the end, you still won't end up in a tough spot, provided you play only with money you can afford to lose.
You should understand that the slots are designed for fast play. The idea behind this is that the player might spend more money if they intend to play for a specific amount of time. And since the reels are spinning faster, the player might lose all the money in no time! So you really should take your time, especially if you are playing in an online casino. In these virtual casinos, nobody is waiting in line to play the same game, and you don't need to hurry.
So just do your research. Whenever you approach the slot, unless you're really just having fun and nothing more, proper research is key. All of the things we've mentioned in this article, like RTP, volatility, and the number of features, are capable of impact your overall experience, not to mention your wallet as well!
Finally, whatever happens, you should never chase your losses. It might well happen that you lose some money while playing slots; even so, the last thing you need to be doing is to try to break even. It's not that rare that gamblers believe that they can win money back if they place just one more deposit. Usually, it is quite the opposite, and you'll find yourself losing more money than before you first decided to try and test your luck a little further.
Summary
Slots are fun, and there's a reason why they are among the most popular attractions in every casino. According to research, almost seventy percent of all the income from the casinos in the United States are from these games! And while it's a myth that these games are rigged, there's also a chance that you'll lose your money! So it's essential to remember that the slots should be fun; and so if you follow the tips we've mentioned here, you're sure to have a really great time in both online and land-based casinos.
FAQ
Do you have to play online slots for real money?
No. Most developers offer a free play mode where the player can try out as many slots as they want. So if you're looking to try out the game, you won't need to invest any of your money!
A payline is the line that goes from one side to the other, and the player will have to match symbols across it to win money. The number of paylines per slot can vary from one to several hundred.
Do you need to download some software to play online slots?
No. Most casinos give an opportunity to play games via the browser. And while there are casinos that offer a download option as well, it's not really necessary; and players can usually choose whether they want to use instant play or download version.
Are online slots really random?
Yes. Behind each game, there is a random number generator which will determine the combination as soon as the player hits the spin button. And if you stick to verified casinos, luck is going to be the only thing that really matters! Fortunately, the best casinos are licensed ones, and this means the RNG does have to be verified by a third party.