Jacks or Better is a staple poker game at every online casino and for good reason! It's easy to play, and it has a very high expected return if you, well, play your cards right. Video poker players are surely always on the lookout for simple strategies to help them get head.
We're going to get into the nitty gritty of the Jacks or Better game in the following passages, so you can get your head around it. We're also going to explain the payouts, odds, and give you a simple strategy. Even if you're a complete newbie, we bet you'll feel far more confident after reading out ultimate Jacks or Better strategy guide.
On a quick note, we're discussing the full pay version of the game, which is also referred to as 9/6 Jacks or Better. And no, it wasn't inspired by the 10/6 note that the Mad Hatter wore in the movie Alice in Wonderland. Actually, if you get a full house in Jacks or Better, you are paid nine times your original bet, and if you get a flush, you get six times your bet. You're beginning to see why it's so popular, aren't you?
Well then, follow us down the rabbit hole.
Let's Ease You Into It — Poker Speaks
Before we get into this video poker strategy, we're going to assume you're an absolute beginner and give you a rundown of the common terms. If you're an expert, feel free to skip this altogether or just skim it as a quick reminder!
General Poker Lingo
A high card refers to the Ace and the cards with a face on them, so the Jacks, the lovely Queens, and the distinguished Kings.
An inside straight means that just one specific card is required to finish off the straight. For example, if you have 4,6,7,8 then you absolutely need a 5, right?
An outside straight, on the other hand, is also called open-ended because it means you have the middle bits of the hand in place, and you just need a card at either end to finish it off. So if you have 4,5,6,7 then a 3 will do just as well as an 8 to make it a straight.
A gap refers to those gaps in the cards that you need to complete a hand like the inside straight.
Understanding the Jacks or Better Winning Hands
First off, what are the winning hands in Jacks or Better video poker game? Well, we have the highly coveted royal flush, and right after, the still excellent straight flush. After that, there are seven more combinations that pay out, and two Jacks are the lowest combo needed to award a win.
Here's a table, so you can have an easier overview. Do note that in the Rival game, the paytable is displayed on the screen at all times, for your convenience.
So let's take it from the top.
A royal flush entails having five cards in the same suit that follow one another in a value sequence, and the highest card must be an Ace. An example would be 10 of Hearts, Jack of Hearts, Queen of Hearts, King of Hearts, and Ace of Hearts.
A straight flush is just like the royal flush except the highest card won't be an Ace (hence, the hand loses its "royal status").  An example would be a 9 of Hearts, 10 of Hearts, Jack of Hearts, Queen of Hearts, and King of Hearts.
Next, four of a kind is exactly what it sounds like — four Aces are the dream of course, but any of the same four cards will do.
Now, a full house means you're holding three cards of the same value plus a matching pair. So this can be the 7 of Hearts, the 7 of Clubs, and the 7 of Diamonds, coupled with the Jack of Hearts and Jack of Spades.
When you have a flush, it means you're holding five suited cards. So they can be any cards, for example a 5,7,9,10 and a Jack of Hearts.
If you have a straight on your hands, then your five cards will be in a value sequence, but they'll be unsuited. An example would be 5 of Hearts, 6 of Hearts, 7 of Spades, 8 of Hearts, 9 of Clubs.
Three of a kind just means having three cards, for example, three Jacks, in different suits and nothing else but that (if you had a pair to boot, that would be a full house, remember?).
Two pair just means having two sets of cards of the same value but different suit, like when you have two Aces and two 4s.
And last but not least (ok, kind of least), Jacks or Better is the lowest-paying hand, and yes, its when you have a pair of Jacks!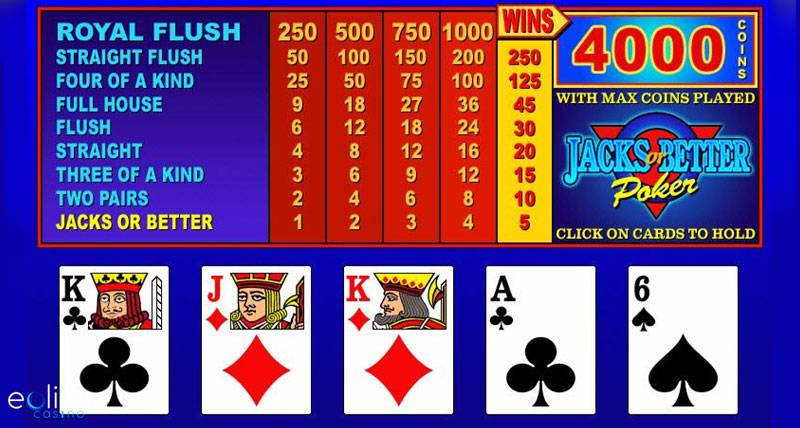 How to Play
Before we get into our Jacks or Better strategy, let's just explain the basic gameplay.
First, select how much you want to stake. Now, in the Rival version, you can start your betting with 0.05 all the way up to 25 of your chosen currency. It's a five-coin program, so you can play any five-coin combo, going up to 5 per coin.
You get dealt five cards, and these are your original cards. It's up to you to choose which you want to keep and which to discard. Click on the ones you wish to keep with the cursor, and if you change your mind, click again on the card you wish to deselect.
If you get the highest winning hand, the royal flush, you'll automatically win. But if it's any other combination, you get new cards, and you can see if you hit a winning hand.
The lowest winning hand is a pair of Jacks, obviously, and it pays even money. The royal flush can award you up to 4,000 coins if you play the maximum amount because it's a 250:1 payout.
Note that there is also a "Double" button, meaning you can double your bet if you're feeling extra lucky. Next to it is the "Collect" button when you're satisfied with all you've won.
How to Win — The Best Strategy
Every poker strategy is molded to fit the best payouts, and so ours is in alignment with the Jacks or Better variation. Playing the 9/6 version statistically allows a whopping 99.54% payout. This means the house edge is a mere 0.46%, making Jacks or Better one of the best casino games for the player.
Below is a chart we've created for you that depicts the best strategy, statistically speaking. Very logically, you can hold all your cards if you get a royal or straight flush, but the software will do this for you automatically, and your winnings will be added to your balance automatically.
We know it's a lot to take in, but consulting this table might be quite useful when you're playing the first several times. It's all common sense — you look at the winning hands displayed in the game, and then the cards you have. Keep the cards that will most likely create a winning hand by the next draw. Don't get greedy and try to go for a royal flush if you have the kind of hand that would more easily "turn into" a full house for example.
Another example of precisely this would be debating whether to hold a high pair while also having four cards to a straight. Hold that high pair for dear life because there's less chance of getting a straight, and you could end up losing a winning hand!
And speaking of common sense…
Strategies and No Common Sense Makes Jack a Dull Boy
Well, the saying technically goes "all work and no play makes Jack a dull boy." But the point is, all the best strategies in the world can fall short if you aren't combining them with common sense.
A lot of gamblers tend to have superstitions that really become a fly in the ointment, and no strategy can help in those cases. So here are our warm suggestions on how to comport yourself while playing Jacks or Better.
Do This:
Re-read our guide if you're a newbie until you memorize all the things you need to know, so there are no surprises. Maybe practice with free games before committing to real-money play.
Practice, practice, practice! This is because poker is a game of skill, at least a little bit. This makes it stand out from other games of chance. Therefore, the more you play, the more you'll feel out what you're supposed to do during each hand.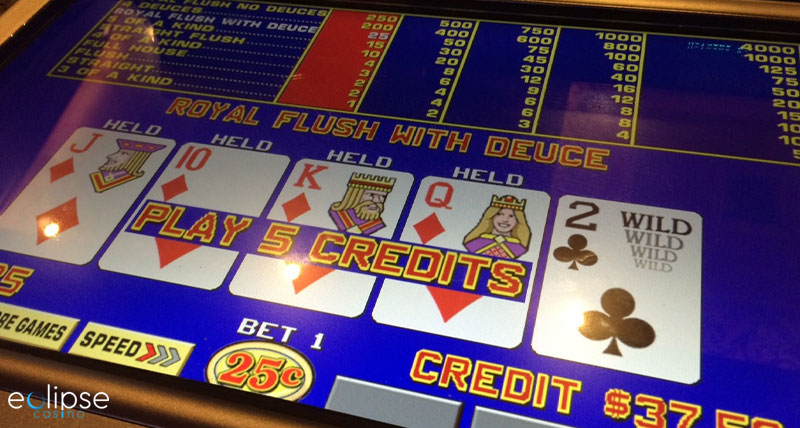 Have a lot of patience. This is definitely crucial because that's the common sense that every Jack and Jill need to have.
If you're playing online, make use of casinos bonuses.
Only play games from the most trusted providers like Rival software.
Not That:
Don't succumb to gambler's fallacy. Because superstition and gambling go together like peas and carrots, you might be experiencing this without ever realizing it! Basically, it means that you're worried that a winning streak won't last and that if you're winning now, you're sure to lose later. Whatever your false belief might be, try to question it and remember that gambling is a play of chance; it's meant to be fun precisely because you can't predict it!
Remember that the cashout curse is a myth! If you win a lot of money on Jacks or Better, online casinos will not rig their games, so you can't win again with the same account. If you have a gut feeling that you're playing at a reputable casino, then really rethink where you're playing. Casinos that cooperate with Rival software developers are trusted institutions, so we recommend you play at those.
Don't card count, especially when playing online. A random number generator is used in that virtual shoe, making it literally impossible to card count.
Remember to rest! Playing for way too long won't do what you want it to; it will just tire out your eyes and spirit. Walk around, get some air, recharge, maybe even take a nap.
Alcohol is not a gambler's best friend. Drinking responsibly is the optimal strategy when you play — or don't drink at all.
To Sum It Up
The simple Jacks or Better game has many incarnations, but we strongly recommend the Rival version of it. So pick a comfortable chair, lay back, and play away with our article as your ultimate guide. We're sure you'll do great if you stick to our strategy and only play while it's still fun!