When the Mystic Wolf starts howling at the Moon, you just know something amazing is going to happen! But this has to be something that's somehow surrounded by secrets, mystery, and magical winnings. And only the real habitats of Eclipse can possibly be brave enough to find the Mystic Wolf, which is going to show the depositors the path to their endless jackpots… And we're here exactly for that reason as well – to give you an exact map of where you can spot this fast Wolf. And not only that – we're also going to show you how to catch him and get the highest wins ever seen!
Where to Spot the Mystic Wolf
In this 5-reel slot with 50 different paylines, you'll be able to spot the Wild Running Wolf, among other symbols: the Moon, a Mystic Coin, Magic Feathers, a Diamond, a Howling Wolf, a Wolf Head, and a Lunar Dice!
But the best feature is yet to come – when the Moon is full, the Mystic Wolf Super Round appears! So once you're lucky enough to catch three or more Magic Feathers, the Mystic Wolf will take you to the real winning spots on the Moon – straight to Free Spins! And if you collect three or more Lunar Dice, then the real miracle occurs – the Lunar Phase Bonus Round. So now you'll be able to choose three lunar phases and then match the Dice to win!
But Mystic Wolf isn't called mystic for nothing – because with him, you can easily expect Random Wins during the Mystic Wolf Super Round, and basically throughout your entire gameplay journey!
The Most Popular Game
You must be wondering why Mystic Wolf has remained the most popular game on the surface of the Moon for months. Well, the answer is pretty simple – because while there are tons of different features that can trigger the bonus rounds, the Wolf has high jackpots! So how much can actually Mystic Wolf bring its players? The maximal jackpot goes up to $37,500!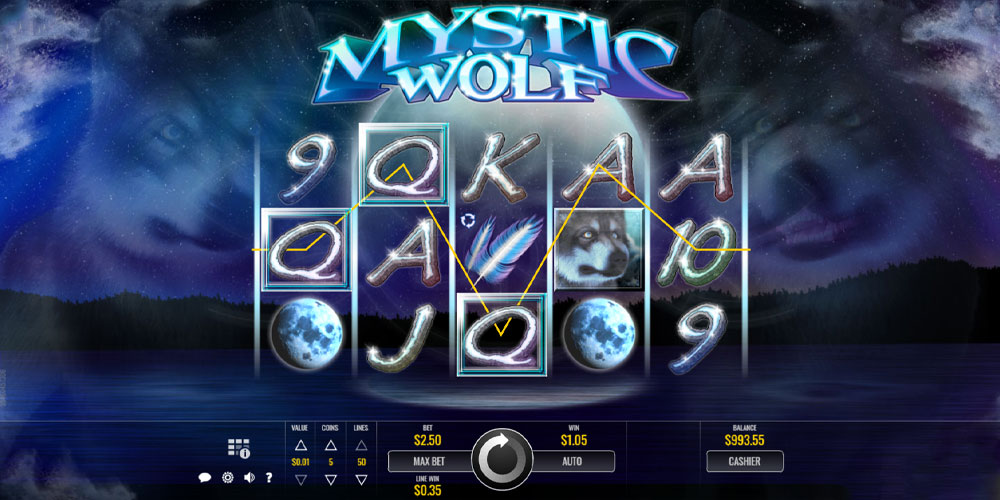 Secret Tip: Eclipse Inside Info
CODE: HOWL210
Our reliable sources claim that Eclipse has a secret tip for winning with Mystic Wolf, and we're ready to share it with you – because you know that life on the Moon is friendly! So by using your HOWL210 code and by depositing the minimum of $100, you'll be able to get a 210% Slots Match + 45 Free Spins on Mystic Wolf! But that's not a simple Bonus, this is the power that will help you track the Wolf and hit the jackpot while having fun!
Who said life on the Moon couldn't be both fun and profitable? Eclipse knows how to make you rich!